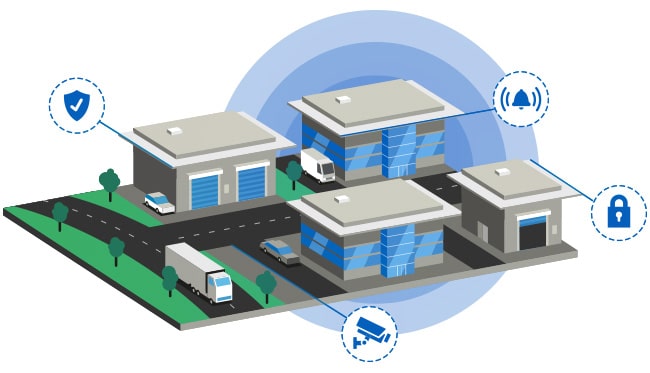 Our client specialises in environmental clean-up operations around the UK, they approached Clarion in November 2021 to help protect one of their offices in Manchester, with a monitored intruder alarm.
Clarion was approached by a client who needed protection for their company premises after hours. They also required that the intruder alarm be monitored and given a URN number so that police could respond if necessary.
We provided a full range of detection devices to cover all potential access points, as well as detection devices inside the building, in order to provide a fully robust solution, covering all scenarios and potential risks.
External and internal sounders were installed to further act as a deterrent if a detection device was activated. Sounders release a high pitched, continuous sound, to deter an intruder from staying at your premises any longer.
We undertook the work whilst the client's staff were working and caused minimal disruption to their business, something which we work hard to achieve in order for our customers to continue to operate. For more information on our commercial alarm systems please visit our systems pages.
Independent family business, Clarion Security Systems is dedicated to ensuring clients have their security systems needs fully met, and are compliant at all times. We offer a full design, installation, service and remote monitoring of advanced electronic security solutions, including intruder alarms, access control and CCTV systems.
Clarion Security systems is an NSI Gold Installer as well as holding the coveted ISO 27001 accreditation. To schedule a FREE site survey please contact us on 08442 084422 or email us today to discuss your needs.
*Because we take our customers' privacy and security seriously, we do not post actual project images*