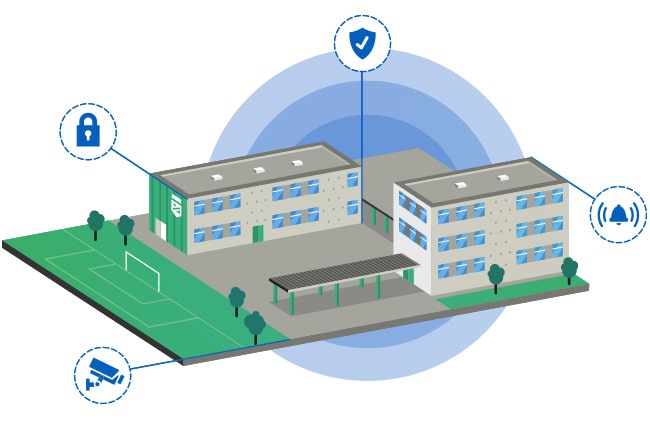 A sixth-form building at a Manchester school was experiencing frequent vandalism. In February 2022, our client approached Clarion for a solution.
We've worked on multiple successful security projects with this valued client since 2017. They required Clarion's assistance this time to develop a solution to help prevent vandalism at their sixth-form building because there was no existing CCTV coverage in place, and hence no deterrence or opportunity to catch the perpetrators on video.
As with all projects, we conducted an in-depth site assessment and discussion with the client to completely understand their needs, the building, and the key areas where the vandalism was occurring.
After the client accepted our quotation, we organised the job around school holidays in order to complete the task work in a timely manner. We installed 9 vandal-resistant, externally rated 2.0MP IP dome cameras in strategic locations throughout the building. Each camera was equipped with a new Avigilon ACC7 enterprise licence, allowing the cameras to be integrated into the school's existing system, giving them a complete picture of the grounds and buildings.
Clarion engineers meticulously inspected all cameras after installation to ensure they were fully working and ready for the task for which they were deployed.
Vandalism has decreased in the sixth-form building, and if it does occur, they now have the tools to track down the individuals.
As with all clients, we recommended the school take out a comprehensive maintenance contract to protect their system and ensure that their investment continues to work for years to come. Our client understood the need to protect their investment and will receive the following:
1 x Preventative maintenance visit per annum.

Telephone support to assist with minor training issues and basic problem-solving.

Speedy priority service to ensure swift attendance.

Temporary loan equipment (when available) whilst faulty equipment is being assessed.

A remote diagnostic service (where technically feasible) allows a remote reset of the system.
Clarion Security Systems is dedicated to ensuring clients have their security system needs fully met, and are compliant at all times. We offer a full design, installation, service, and remote monitoring of advanced electronic security solutions, including; school alarms, school door entry, and school CCTV.
Clarion Security Systems is an NSI Gold Installer as well as holding the coveted ISO 27001 accreditation. To schedule a FREE site survey, please contact us on 08442 084422 or email us today to discuss your needs.
Because we take our customers' privacy and security seriously, we do not post actual project images*