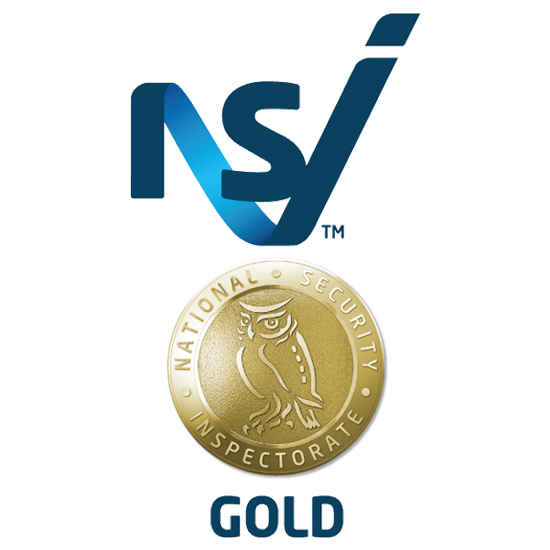 Externally Audited For Your Peace Of Mind
We are an NSI Gold Installer, which is a scheme for companies who constantly meet the industry's highest standards through ISO9000 Quality Management, as well as the relevant British and European Standards. We are routinely vetted to ensure we operate to the highest of standards and are run in a professional and competent manner.
National Security Inspectorate (NSI) was formed from the 2001 merger of NACOSS (National Approval Council for Security Systems) and ISI (Inspectorate of the Security Industry). It is recognised as the leading certification body for the security and fire protection sectors in the UK. Since 1971, they have helped protect businesses by providing high-quality audits of business security service providers like Clarion.
Their in-house team of auditors conduct over 4000 assessments to verify compliance with relevant British and International Standards and Industry Codes of Practice.
NSI Gold is the highest accreditation in the security systems industry and is held in high regard by the police, fire service, and insurers. The accreditation ensures continual improvement in management policies and compliance with the current standards.
Why should you use an NSI approved company?
Businesses who choose an NSI approved company have the reassurance that their chosen company works to the highest of standards demanded by the emergency services and insurance industry.
Is it easy to become NSI Gold accredited?
To gain NSI Gold, the company needs to go through due diligence, two audits, and then 21 days to implement any corrective actions, prior to gaining approval. For NSI Silver, you only need to undergo one audit and the process is significantly shorter as it is aimed at new entrants into the security systems market. Once a company has been granted NSI Gold, then the NSI is then required to visit every member twice a year to carry out an inspection visit.
What's The Difference Between NSI Gold and NSI Silver?
The NSI offers a two-tier level to their approval system – NSI Gold and NSI Silver. However, there are some differences between the levels and we would recommend that you always look to go with an NSI Gold company.
NSI Silver explained
"NSI Silver companies meet the industry's technical standards which are listed on their Certificate of Approval."
This means that a company with NSI Silver is able to provide you with a security product and a quality installation.
NSI Gold explained
From an installation point of view, both Gold and Silver approved companies meet the same technical standards. However, NSI Gold delves deeper into the company's management and ensures that they continually look to improve processes, procedures, and policies with scrutiny of their ISO 9001 Quality Management System.
This means that an NSI Gold Accredited company goes the extra mile to not only ensure that installations are of a high standard but to continually strive to improve all areas of the business.