Commercial Alarm Systems Since 1996
Commercial Alarm Systems Manchester, the North-West and across the UK.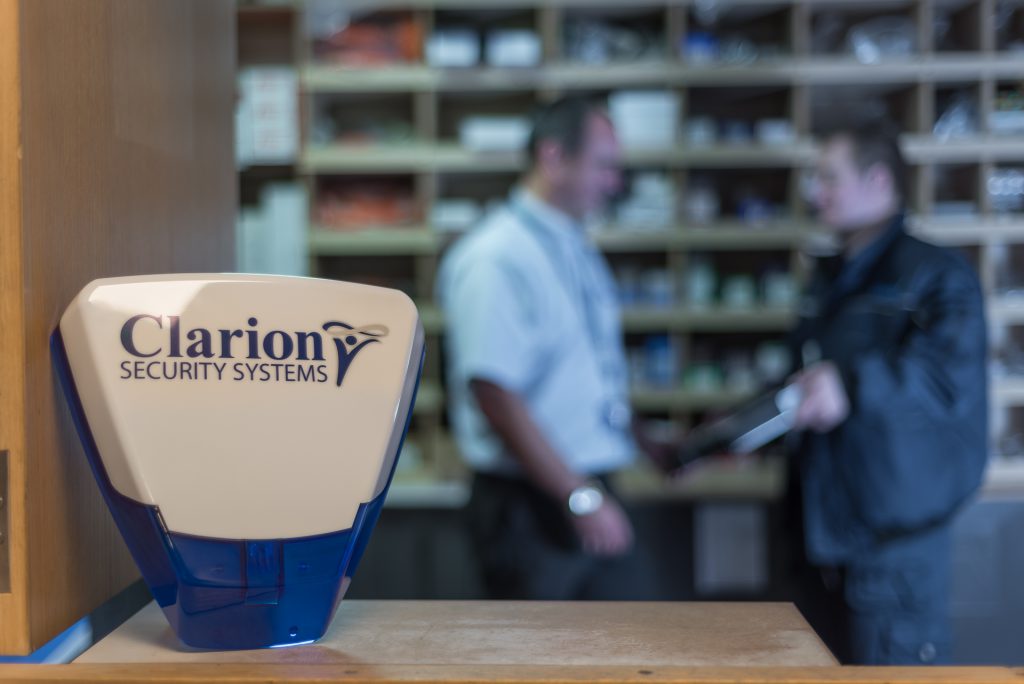 From a single door contact to a multi-zone system spanning several locations, we will design a system around your requirements and exceed your expectations.
The constant threat of intruders which can lead to criminal damage and/or theft is an ever-increasing risk to organisations throughout the UK.
Our commercial intruder alarm systems are specifically designed and installed to the highest standards to provide protection for both high and low-risk organisations including offices, storage units, warehouses, cash rooms and schools.
From a single door contact to a comprehensive multi-zone system, we will design a system around your requirements combining proven techniques with leading-edge technology, fully compliant with the latest British and European standards.
By using our remotely monitored intruder alarm systems you will benefit from one of the most advanced and highly developed monitoring centres in the country, complying with all current British and European Standards and Police force policies, giving you a completely dependable and feature-rich intruder alarm system.
A remotely monitored alarm will send a signal to a 24/7 monitoring centre who are contracted to provide a response such as to:
Notify nominated keyholders
Notify a keyholding service
Notify the Police in the event of a confirmed alarm signal
We work in a wide range of public service, commercial and industrial sectors, a small list is below:
Retail Security Alarms
Hospital Security Alarms
Business Park Security Alarms
Public Sector Security Alarms
Hospitality Security Alarms
Vacant Building Security Alarms
Data Centre Security Alarms
Critical InfrastructureSecurity Alarms
Leisure Security Alarms
Solar / Wind Farm Security Alarms
Office Security Alarms
Nursery Security Alarms
Care Home Security Alarms
Look Out For The NSI Gold hallmark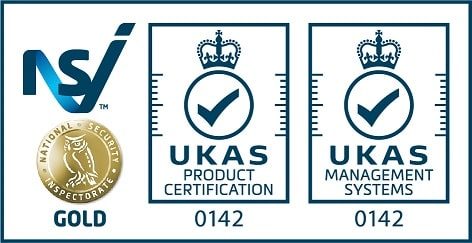 If you are looking for a partner to advise and provide a commercial alarm system for your premises it is vital that you look for a company that is NSI Gold accredited. Clarion has been NSI Gold accredited since 2006.
It is the most widely recognised accreditation in the security systems industry, and it tells you that the company is:
Technically Competent
NSI Gold accredited companies have relevant technical experience and work to International and British Standards and NSI Codes of Practice.
Professional
Operate a Quality Management System to ISO 9001 and NSI Quality Schedules.
Trusted
Reputable Directors & leaders with relevant business experience and effective employee security screening.
Commercial Alarm Systems Give You A Police response
The Police's Policy is there to ensure the efficient deployment of responders to intruder alarms.
In order for your premises to obtain Police response to an alarm in the UK, it is essential to use the services of:
An approved Alarm Receiving Centre (ARC) to monitor your alarm
An approved installer recognised by the Police (NSI Gold or Silver approval are recognised by the Police) and
The Police require your commercial alarm system to be installed and maintained. As an NSI Gold Installer, we can do this.
When choosing an NSI approved installer they will provide you with a contract covering alarm monitoring services, which will be provided by an NSI approved Alarm Receiving Centre (ARC), as well as maintenance, unless you choose another option.
As well as this they will also provide:
A Certificate of Compliance to PD 6662 or BS 8418 for your installation.
Ensure that your premises gain a Police Unique Reference Number (URN) so that your alarm system will be registered with your local Police Force.
You can check the authenticity of Clarion by looking at our NSI Gold Installer page.
Get In Touch
To discuss your commercial alarm system project, please use the contact forms on this page and one of our friendly team will get back to you within 24 hours (usually sooner).
Call our team on 08442 084422 8:30 a.m. to 5:30 p.m Monday to Friday to discuss your needs.
Reasons Your Premises Needs A Business Intruder Alarm
An intruder alarm is essential if you are looking to improve the overall security around your premises. Installing an alarm system can also provide the following benefits.
1. Protect Your Premises From Theft
There will always be a threat of burglary when there is valuable stock, equipment or data inside a site. This is because one break-in could net criminals thousands of pounds in a day's work. In sectors such as manufacturing, this is the most common kind of crime. When you or your staff are not there how can you protect it?
The answer to this is a commercial alarm system. It is vital for many reasons, some of which are below:
Sophisticated alarm systems can send a signal to an alarm receiving centre and then notify the Police and your keyholders. This will limit the number of time burglars has on your site and the time they have is narrowed.
The visible presence of an alarm system will deter criminality. Criminals want easy targets where they can enter unchallenged and spend time taking your expensive equipment, an intruder alarm will make it obvious that you are not an easy target.
If your premises do break in the motion sensors will detect them and your alarm will sound, this is sometimes enough to ensure that they will leave. If they do not the next step to your intruder alarm system is below.
The more sophisticated business alarm systems can send a signal to a nominated person or initiate a police response. The thief's window of opportunity is narrowed.
2. Deter Vandals Accessing Your Premises
Stopping vandalism may be as important as deterring thieves. Vandals can cause the same amount of damage, and this is not just smashed windows and graffiti, if they break into your premises the destruction caused to your stock, equipment and building has the potential to:
Damage relationships with customers and suppliers
Delay orders and projects
Shut down your business or School
Result in the loss of your business
Installing an intruder alarm will help notify your alarm receiving centre (ARC) if anyone enters your premises, this could save you untold stress, money and your livelihood. A small investment is all that it takes.
Partnering with the very best
We are supported by some of the world's biggest security system brands.
3. Provide The Peace Of Mind That Your Premises Are Protected When You Are Not There
Intruders will strike when no one is there, this could be at night, during Chrismas shut down or during holidays if a School. This is when your premises are most at risk. Employing security guards, especially 24 hours a day, is an expensive endeavour, for a fraction of the costs an intruder alarm will provide the protection you need.
Here at Clarion, we are able to offer you fully monitored commercial alarms which operate around the click. In the event of a break-in, our Alarm Receiving Centre is altered. Upon confirming the signal they will then:
Contact your nominated keyholder or Keyholding service.
Issue an audio challenge/warning (Warn the intruders that they need to leave the premises)
Contact your security guarding company or initiate a police response to visit your premises
If your premises are in a quiet industrial park then this service will give you extra peace of mind, especially when an alarm sounding may not be heard.
Why Clarion?
We are capable of meeting the high standards of workmanship and service you would expect
We have a quality and professional security team
We operate a 24-hour call-out service and will respond within 4 hours
We are fully insured and have been in operation since 1996.
We carry out rigorous inspections to ensure standards are maintained
We will carry out a thorough security survey and Risk Assessment of your property
We only install reliable, up to date equipment
We will issue you with a Certificate of Compliance for your system upon completion
We can offer you a comprehensive maintenance contract
We always meet the stringent requirements of the police and your insurance company
We operate to the highest level of business excellence through the achievement of the NSI Gold, which we have held since 2006, and also operate the industry-specific ISO 9001 Quality Management system
4. Reduce insurance premiums
Your insurance company may specify that you have a graded intruder alarm and this usually depends on the risk level of your premises as well as your insurer's own policy.
They may also insist that your alarm is installed by an NSI approved installer and that it is regularly maintained to ensure that it is continually operational.
Another benefit of your commercial alarm system is that if the system meets their requirements you may be entitled to a discount on your premium.
You need to ensure that your system is set before you leave the premises otherwise your policy will be invalidated in the event of a burglary.
5. Increase The Potential Of The Police Apprehending Criminals
Intruder alarms are there to stop intruders from breaking in, however, if they do then we want to ensure that they are apprehended so that they are brought to justice and do not try to steal from you again.
By installing intruder alarms we can greatly increase the chance that the police will arrive in time to apprehend the offender(s). Adding monitoring to your system will further ensure that this occurs.
We do not want to put you or your staff at risk, so having the Police attend to deal with the offender(s) is a safer solution, as they are trained to deal with criminals.
Get In Touch
To discuss your commercial alarm system project, please use the contact forms on this page and one of our friendly team will get back to you within 24 hours (usually sooner).
Call our team on 08442 084422 8:30 a.m. to 5:30 p.m Monday to Friday to discuss your needs.
Business Alarm System Panels
Ensuring that your organisation is protected to the best standard has never been more important. With one burglary occurring every minute in the UK alone, it's time to start thinking smart about your commercial intruder alarm protection.
Intruder control panels are at the heart of any burglar alarm system and are selected based on the risk posed to your organisation. We source all of our intruder control panels from reputable, trusted suppliers with whom we have worked closely over a number of years.
There are hundreds of intruder control panels that are available on today's market but the type of panel you require can depend on a number of factors. These include the size of your organisation, the location, and even the nature of your operations.
All of our intruder control panels comply with the current intruder alarm standards and are intelligent in nature. They offer a futureproof scalable solution, allowing you to control and secure up to hundreds of zones, whilst having the option for wired and wireless intrusion detectors to work alongside the panel, meaning it can easily be integrated and installed within your organisation.
With an intruder alarm system designed and installed by Clarion, you can be confident that your organisation is protected and will quickly detect an intruder.
The 4 Stages of Your Business Alarm System Project:
Ensuring projects run smoothly starts by doing the basics correctly, this is why we follow the same procedure for all projects to ensure that your project runs on time, to budget and meets your requirements.
Please take a look at the below steps to see what is involved with your project.
Brief & Survey
We will visit your premises to understand your requirements, budget and layout of your site. As an NSI approved company we will also carry out a risk assessment as an added benefit to your survey, the risk assessment will consider:
The level of security required to meet customers' needs
Cyber-security
The number of people using the system
How visitors would be managed
The selected recognition technology
The businesses activities
Design & Proposal
Our team will then get to work on the plans and design of your commercial alarm system, before presenting you with a proposal, as well as costs for both an outright purpose and also a leasing option if preferred.
Installation & Training
We will plan the installation at a date that is convenient for you and ensure that you know how long it will take, the project manager handling your project and the engineer(s) who will be installing your alarm system.
If you need anything thing you have direct contact with your project manager to ensure your project runs smoothly.
After your project is finished we provide training and a manual so you know how to fully operate your system.
As part of your quote, we recommend that you take out an annual maintenance contract to ensure your system remains fully operational.
24/7/365 Support
All maintenance customers will benefit from access to our 24/7 telephone support, technical support and priority service. If you ever need anything all you have to do is email or call us.
Business Intruder Detection Systems
Our intruder detection devices differ considerably and depend on your needs, the size of your organisation, and the areas you want to cover. We will always design intruder detection systems to your bespoke needs.
So what are the different types of intruder detection systems?
Dual Technology
These are perfect for the protection of rooms and offices, school corridors, warehouse areas, retail environments, or almost any environment you can think of. They come with anti-masking detection built-in (applicable on grade 3 systems), meaning that the area in front of the sensor is continuously monitored. Anti-masking can occur when an intruder attempts to block the sensor by vandalising it or placing items in front of the unit to attempt to override the system and go unnoticed. Any form of obstruction placed in front of the unit will activate the anti-masking process and inform you or the monitoring station.
Door Contacts
Magnetic contact detection devices are used widely in alarm systems, sensing whether a door is open or closed at any particular time. The contacts communicate to the alarm system and inform the end-user when setting the system if the door is open or closed.
Vibration Sensors
Vibration Sensors are designed to protect high-value and high-risk assets in financial, retail, and other organisations. The vibration sensors can be installed onto new or existing security systems and offer a higher level of protection and false alarm immunity than traditional shock sensors, which often lack the ability to discriminate between vibration and real attacks.
Acoustic Glass Break Detector
This type of detector listens out for the sound of breaking glass whilst measuring the amplitude of the sound. It will measure the duration of the signal and acts as a first-line defence to your premises. The detector will then communicate to the intruder control panel and send a signal to trigger the alarm. Unlike other glass break detectors, our detectors offer four sensitivity settings, meaning we can match the sensitivity levels to the acoustics of the room being protected, ultimately leading to fewer false alarms.
Panic Buttons
Our current panic buttons meet the new standards for requesting Police attendance in an emergency situation. Panic buttons are key to those who operate in retail, banking, or any environment that deals with the public face-to-face. Should a threat occur, a member of staff can press the panic button without alerting the intruder. The alarm is then sent silently to the monitoring station and the Police will be notified.
Features Of Commercial Intruder Alarms
Flexible and adaptable for future changes
Maintenance programme to suit all budgets
Common hardware and cabling structure make initial installation and future expansion easy to achieve
Remote engineering and reporting capability
Benefits Of Commercial Security Alarm Systems
Deterrent against vandalism
Reduction in insurance costs
By alarming key areas in the business, you can prevent staff theft
Remotely monitored systems can reduce insurance costs and enhance the effectiveness
Guaranteed response within 4 hours
Get In Touch
To discuss your commercial alarm system project, please use the contact forms on this page and one of our friendly team will get back to you within 24 hours (usually sooner).
Call our team on 08442 084422 8:30 a.m. to 5:30 p.m Monday to Friday to discuss your needs.
What should your business look for in an intruder alarm system?
An intruder alarm system should incorporate a number of factors to ensure that it is of the right standard for your organisation. Below we take a look at the equipment and services available and the types of systems that will ensure your premises are secured to the highest standard.
Alarm Signalling – Good intruder alarm systems will offer the ability to send signalling to a control centre as and when an alarm is triggered. They will offer a range of signalling tools to allow alarms to be transmitted across IP (internet), GPRS and even provide a backup telephone line should any of the signalling fail. Intruder alarm signalling is crucial to ensuring that responses to triggered alarms are dealt with effectively and ensuring that your site is fully protected and monitored. Signals can be sent directly to your mobile phone, but we would always recommend using an external alarm monitoring station to ensure that the triggered alarms are dealt with in the best way possible.
Alarm Monitoring/response – So you've opted to install the signalling, now who will monitor it? It's all good and well having a triggered alarm signal sent to your phone, but how will you know the extent of the problem instantly? External alarm monitoring signals will urgently respond to triggered alarms, if it is one alarm they will notify you directly, but with one or more activated they will call the police ASAP to make them aware of a potential intruder/threat to the premises. The police will attend to ensure that no intrusion is taking place and make arrests where necessary.
High spec equipment – Understanding the type of system you would like with alarm signalling and external alarm monitoring is just a small part of your intruder alarm system. It's important to remember the impact that low-quality, cheap equipment will have on your overall system. Will it cause falsely triggered alarms? Is it likely to break and cost you more money in the long run than a more expensive solution? When it comes to security, product quality should never be compromised. So ensure your solution is of a high spec to keep your premises secure at all times and have full confidence in your system.
Quality installer – Along with high specifications for your intruder alarm system needs, the importance of a quality installer must never be compromised. A bodged job isn't going to give you the level of security you require. Intruder alarm systems must be installed to EN50131 guidelines to ensure that they are designed to offer the right security specification for your premises. The last thing you would want is a grade 1 alarm system installed on your premises that should actually be designed to grade 3 standards. It's only going to cost you more money in the long run and severely compromise your business or organisation.
What's next?
If your organisation is interested in upgrading your intruder alarm system from a reputable designer and installer, you can get in touch with our sales team direct on 0844 208 4422, email sales@clarionuk.com or request a call back here.
Partners
The Sectors We Work In
View the locations where we work here.