Warehouse Alarm Company
Warehouse Intruder Alarms In Manchester, the North-West and across the UK since 1996.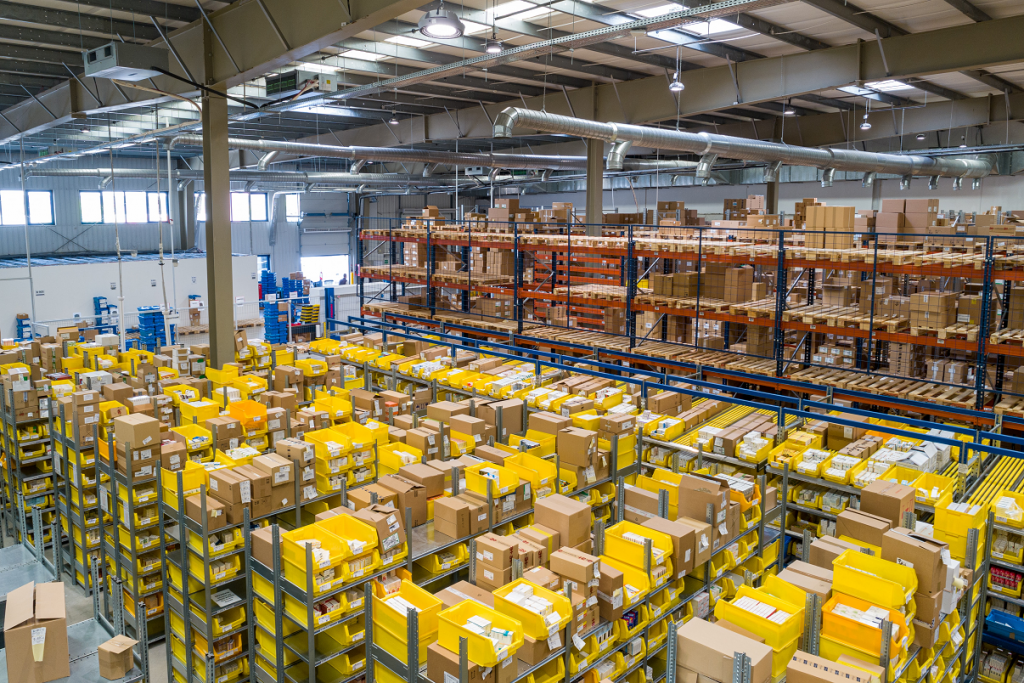 Warehouse alarm systems
Warehouse thefts are common because they are often in isolated locations, lack poor security and contain large spaces which can make securing the space problematic. A warehouse alarm security will help you eliminate these vulnerabilities and then take control of your warehouse's security with an advanced alarm system designed to stop criminals in their tracks.
A warehouse alarm system can be designed to utilise a range of sensors that can be added to windows, doors, gates and more, to create a secure barrier to entry. As soon as these sensors are disturbed, then an alarm will signal with your monitoring station and then alert keyholders and the police called to attend.
Get In Touch
To discuss your warehouse alarm system project, please use the contact forms on this page and one of our friendly team will get back to you within 24 hours (usually sooner).
Call our team on 08442 084422 8:30 a.m. to 5:30 p.m Monday to Friday to discuss your needs.
Burglar alarms can also use different sensors such as infrared, ultrasonic, magnetic, microwave, photoelectric and glass–break detectors. The type of sensors used depends on the asset being protected, the threat to these and the budget available.
As mentioned above monitoring stations adds a further level of security as they are manned by experts who quickly notify the warehouse manager, nominated keyholders or the police, guaranteeing that a warehouse alarm never goes unnoticed.
This gives peace of mind to the warehouse owners knowing that the site is protected during the night or when the warehouse is shut down.
Look Out For The NSI Gold hallmark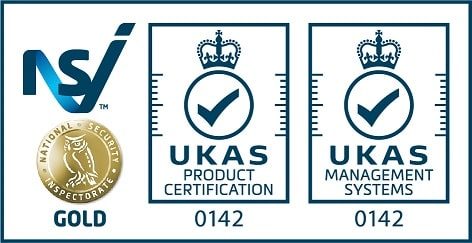 If you are looking for a partner to advise and provide a warehouse alarm system for your premises it is vital that you look for a company that is NSI Gold accredited. Clarion has been NSI Gold accredited since 2006.
It is the most widely recognised accreditation in the security systems industry, and it tells you that the company is:
Technically Competent
NSI Gold accredited companies have relevant technical experience and work to International and British Standards and NSI Codes of Practice.
Professional
Operate a Quality Management System to ISO 9001 and NSI Quality Schedules.
Trusted
Reputable Directors & leaders with relevant business experience and effective employee security screening.
Criminals will look to target easy premises that have little or no security in place, and the cost to a business can run into the tens of thousands, with some businesses closing as a result of this.
Warehouse burglar alarms are a key part of warehouse security and are an effective deterrent against burglars, here at Clarion we have installed hundreds of Warehouse alarms for clients in Manchester, the northwest and across Yorkshire.
Warehouse Burglar Alarms
Burglar alarms for warehouses help to serve a variety of purposes:
Deter people from attempting to break into your premises
Scare away intruders with an audible alarm if a trigger is activated
Alert keyholders or the Police if you have a monitoring contract in place
Help to ensure that you meet your insurance requirements. Depending on what you hold at your warehouse, and what your insurance company is saying, you may require a certain graded alarm system. For more information on alarm grades please click here.
Types Of Warehouse Burglar Alarms
There are various types of burglar alarms for Warehouses, and the one you will require will depend on several factors. The best way to ensure you have a system which is fit for your purpose is to arrange a free site survey with a company like Clarion, who can then assess your needs and requirements and provide you with a no-obligation quote based on these needs.
Bells-only burglar alarm
Bells-only burglar alarms are a system which uses a sound, and sometimes a flashing light, when the system is triggered y an intruder. They require the intruder to be scared that someone will be altered and call the police, or that the premises have a security guard who will investigate the sound.
Although this kind of alarm sounds ideal and is often the cheapest system, you do need to be able to have someone on-site to investigate any alarm activation, which could end up being very costly if you require round-the-clock security guarding.
Since warehouses are in areas that are more often isolated, a bells-only alarm system could often go unnoticed if there are no people close by to respond.
Dialler burglar alarm
A dialler burglar alarm is one step up from a bells-only alarm, as well as the function of a loud sound/flashing light, a dialler system will contact the owners or nominated keyholders in the event of an alarm trigger.
Dialler systems are linked to the phone line, and more often via a mobile network, and will alert anywhere from 1 to 10 saved numbers in order. It will contact people in order of priority and will stop once someone responds.
A weak mobile signal may render this solution unworkable, and if no one responds to the dialler, then again the intruders may go unnoticed.
Monitored burglar alarms
A monitored warehouse burglar alarm is where the level of protection starts to become worthwhile. In addition to an alarm sound when the alarm is triggered, this also alerts a professional monitoring centre, which is known as an Alarm Receiving Centre (ARC), who will then notify you, nominated keyholders and/or the police.
Using an ARC ensures that your alarm activation never goes unnoticed and that someone will be informed, or the Police will be called. This is ideal as when your premises are not guarded, such as during the night, it is the most likely time would-be intruders would look to act. If you want peace of mind, then is this a solution you should consider,
Integrated burglar alarms
This is a further step up from monitored warehouse alarms and looks to integrate your alarm with other security systems such as your CCTV, and when an alarm is triggered your CCTV cameras could be configured to look at the area where the alarm trigger is, and the monitoring station could authenticate the intrusion and either look to provide an audible warning, if you have a system in place to do this, or alert the Police if this is an option, and to provide a Police response with minutes. Keyholders will also be notified.
Wired Or Wireless Burglar Alarms?
Wired burglar alarms
Wired burglar alarm systems take longer to install and are more intensive due to the requirement of linking the system together so that everything is connected and works. However, in the long run, since they gain power from the mains, they are cheaper to run as they have less reliance on batteries which a wireless system uses, and which would need replacing every few years. Wired systems are also easier to maintain due to this.
Wireless burglar alarms
A wireless burglar alarm system uses wi-fi to connect the sensors and this results in less labour and a quicker installation cost. This would result in a lower installation cost for you.
Wireless systems do tend to have higher maintenance costs, as the batteries need replacing every few years. Wireless systems are also not ideal for areas that experience electrical interference, which could cause the system not to work properly. This could result in lower initial installation costs, but higher maintenance costs over the years.
We would advise that you choose a system with monitoring as it will provide the best protection to your premises. As well as ensuring that it is monitored when it is most required.
Which Is The Best Warehouse Alarm System?
The best warehouse burglar alarm is one that stops intruders from breaking in, or if they do break in, ensures that a response from keyholders or the Police is sent after alarm activation. So at a minimum, we would advise on a monitored alarm system for your Warehouse.
We would also advise that your system is wired. Although this may result in a higher upfront cost, over time you will actually save money. A wireless system connection could stop working, rendering your premises unprotected, with a wired system this will not happen.
When it comes to the alarm grade your premises required we would recommend that you first speak to your insurance company and ask them, We are able to install all grades of systems.
Warehouse Burglar Alarm Considerations
Although there are many options when it comes to warehouse burglar alarms, choosing one should be made easier if you follow the following points:
Assess your premises: A risk assessment and walk-around will help identify weaknesses at your site and help identify areas that need coverage when it comes to alarms, such as windows and doors. This will ensure that you start to formulate an idea of what you need. At Clarion we offer FREE site surveys so please feel free to contact us as we would be happy to assist you.
What system is best: Your site is not the same as another, and so too is your budget, therefore your system should be bespoke and based on your requirements. You may have a small site and only require a bells-only alarm, or you may have a large site with valuable stock and require a system which is all-encompassing, giving you the ultimate protection. We recommend that all sites should have at the least, a monitored alarm system.
Where does security start? Typical alarm systems cover doors and windows, however, if you have a large perimeter fence you are also able to install a perimeter alarm system. This can be set to detect vibrations when someone is climbing it and trigger the alarm. There is now a wide range of systems which can be used to protect your site.
Know your installer: Always look for accreditations and companies that have a long history. Although recommendations are ideal, look at their website and case studies in order to see what works they have previously completed. Make sure that you meet them, and agree on a table of works and timeframes.
Maintenance is key: Always look to ensure that you have a maintenance contract in place. This will ensure that your system is checked yearly, is compliant with your insurance, and is ready to work if required.
Training: Ensure that your warehouse alarm company provide training to all staff who will be operating your system. This will reduce false alarms, as well as ensure that your alarm system is fully armed when required.