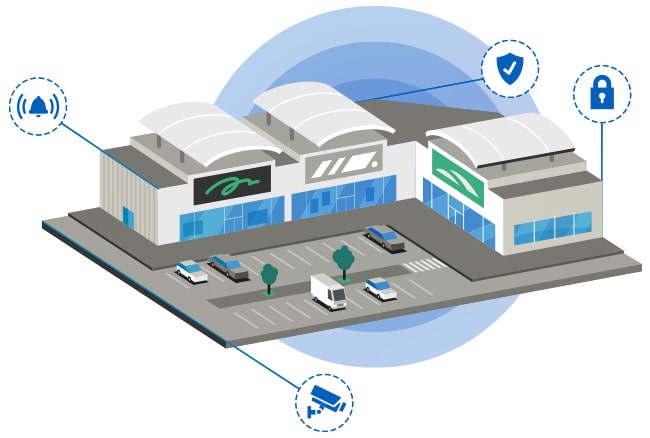 Our client operates one of Blackpool's largest retail clients and approached Clarion in October 2021 in order to upgrade their current CCTV system.
We have extensive experience providing CCTV systems for retail parks and understand the security risks associated with them. After providing a FREE site survey we got to work on a detailed quotation that would provide a solution to their needs and upgrade their CCTV system without shutting any stores and disrupting customers' parking and/or access.
We provide a range of solutions, all of which were agreed upon as they were designed to provide solutions to the client's current security problems. We installed a new Hanwha Network Video Recorder in order to store and record video images, and also a new 24″ HD monitor on which to view the recordings.
As the system was analogue based the client wanted to upgrade to an IP solution, so we supplied and installed 6 Hanwha IP bullet cameras to replace the older analogue cameras.
As the retail park was over a large area we needed to mitigate the cost and downtime that a fully wired system would cause, therefore we recommend using wifi links between the cameras and the Network Video Recorder as this would allow the viewing and recording of all new cameras, without the need for extensive groundwork and cabling; this saved the clients thousands of pounds and stopped any loss of income for their tenant's retail units.
Independent family business, Clarion Security Systems is dedicated to ensuring clients have their security systems needs fully met, and are compliant at all times. We offer a full design, installation, service and remote monitoring of advanced electronic security solutions, including intruder alarms, commercial access control and business CCTV systems.
Clarion Security systems is an NSI Gold Installer as well as holding the coveted ISO 27001 accreditation. To schedule a FREE site survey please contact us on 08442 084422 or email us today to discuss your needs.
*Because we take our customers' privacy and security seriously, we do not post actual project images*