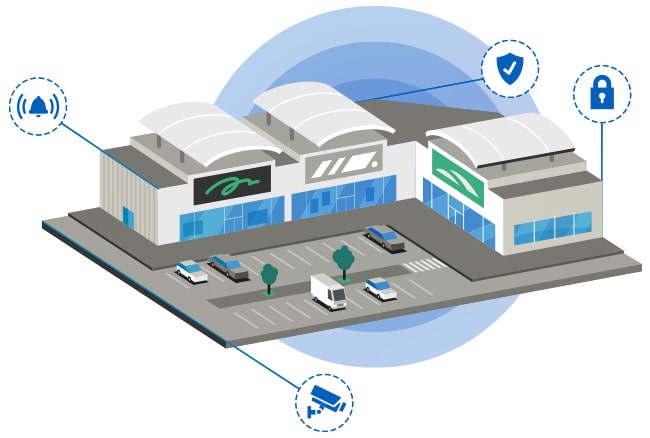 Our client runs a prestigious shopping centre in Liverpool. After a planned routine maintenance visit in November 2021, Clarion identified several issues which needed attention.
Preventative maintenance is essential for extending the life of your security systems and ensuring that they are operational 24 hours a day, seven days a week. As the operator of a prestigious Liverpool shopping centre, it is critical that their security systems are always operational.
Following routine maintenance, we discovered the following issues:
A third party had damaged a camera bracket, potentially causing the camera to fall and injure someone.
Two cameras were identified as having reached the end of their useful life and needed to be replaced.
Following recent on-site construction work, a significant amount of dust was discovered in a server.
We quickly scheduled the work after the client accepted the quote and replaced the broken bracket, and the end-of-life cameras with new ones, and then tested and configured them before adding them to the existing system. In addition, the server was stripped down and a full clean-out of all dust from the construction works was completed to ensure the server remained operational and improved its lifespan.
Although we excel at installing security systems for a wide range of customers, it is our support, servicing, and maintenance that really sets us apart. Our mission is to always protect your property, people, and assets by providing 24-hour support, maintenance contracts, and expert service whenever you need it.
We recommend that clients have a comprehensive maintenance plan to protect their system and ensure that their investment lasts for years. Our client recognised the importance of protecting their investment, allowing us to identify issues on a proactive rather than reactive basis. They will be given the following:
1 x Preventative maintenance visit per annum.

Telephone support to assist with minor training issues and basic problem-solving.

Speedy priority service to ensure swift attendance.

Temporary loan equipment (when available) whilst faulty equipment is being assessed.

A remote diagnostic service (where technically feasible) allows a remote reset of the system.
Independent family business, Clarion Security Systems is dedicated to ensuring clients have their security systems needs fully met, and are compliant at all times. We offer a full design, installation, service and remote monitoring of advanced electronic security solutions, including business alarms, access control and commercial CCTV systems.
Clarion Security systems is an NSI Gold Installer as well as holding the coveted ISO 27001 accreditation. To schedule a FREE site survey please contact us on 08442 084422 or email us today to discuss your needs.
*Because we take our customers' privacy and security seriously, we do not post actual project images*