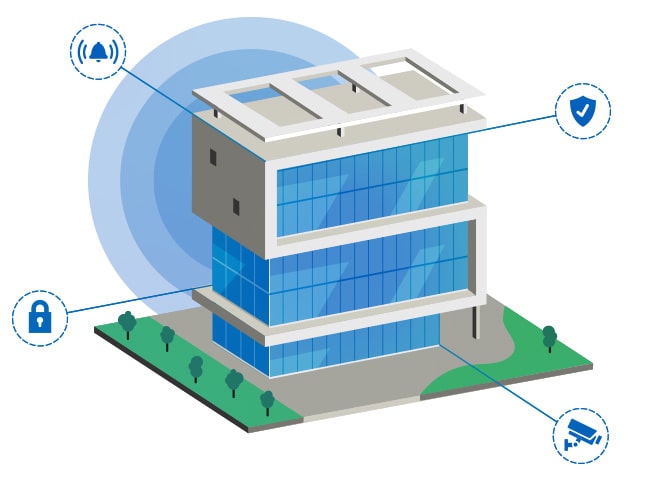 St James's House is located in the heart of Manchester and is positioned to take advantage of the City's growing transport links, making it a popular choice for office space. The high-quality office building has been transformed over the last 10 years to provide Grade A accommodation and systems.
The building had an access control solution in place that operated across 7 doors. The solution was old, dated, and could no longer offer the level of integration and access control the new owner required. Given the number of floors and proximity of each lift, the existing system could cause huge disruptions to the building should it fail. The client also required an access control solution that would allow reception staff to remotely open doors for occupants and offer a more streamlined, professional solution for visitors.
As a C.Cure partner, Clarion opted to install a C.Cure 9000 solution as it is a robust access control platform, and currently one of the best on the market. The solution offers a high level of security in terms of access control and can easily be integrated with existing systems.
At Clarion we have the expertise to integrate access control with a variety of in-house systems such as cashless vending, CCTV, print management, and a whole host of other systems. On this occasion, the client specified that the access control system integrated with the lifts internally, so that the access control ID card could control lift operations.
During our initial survey we identified that the existing access control system was wholly dependent on the software running in order to control the lifts thus resulting in a single point of failure, should the PC or software stop for any reason all 3 lifts would fail to operate.
Clearly, this was not acceptable and the client was very keen to have a system that would not stop functioning should the PC stop working resulting in a hardware solution being deployed. Each lift is now managed by a dedicated intelligent controller which in the event of failure can be overridden, significantly reducing the risk of disruption to the day-to-day running of the building.
In addition, flexibility within the C.Cure system allows the reception staff to call each lift for visitors and selecting which floor they can go to which further enhances the site's security.