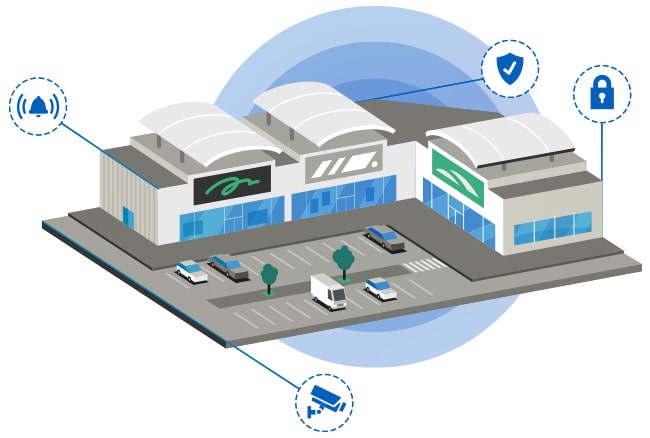 Our client operates a large shopping centre in Halifax which is home to over 40 shops, ranging from small independents to large multinational retailers. They approached Clarion in 2019 to provide enhanced CCTV and access control capabilities.
A new Avigilon HD Hybrid solution was recommended to improve the quality and effectiveness of the CCTV system around the site. The CCTV system comprised of 39 high-definition cameras (22 x high-speed domes, 12 x fixed cameras, and 5 x 360⁰ fisheye cameras) streamed back to a new high capacity server located within the main security office.
We also installed Avigilon's Control Centre software as it is able to simultaneously record, view, and control analogue cameras, standard IP cameras, and the very latest megapixel cameras. This flexibility allowed our client to be able to check footage quickly when required. The system was then configured to record all cameras at a rate of 1 image per second and, upon detection of movement, increase to 13 images per second per camera to provide high-quality footage. 
We installed 2 new multi-monitor workstation PCs within the main security room for viewing and control of the system. These workstations controlled 2 x 55" LED HD monitors (mounted upon the wall) & 3 x 27" LED HD monitors mounted upon the main security office wall. This was to enable the client to see the "full picture" when it comes to viewing footage from the CCTV system.
A new rack-mounted uninterruptible power supply (UPS) unit was installed within the equipment rack to power the server in the event of a total mains failure. The UPS will run the server, network switches, and main monitor for approximately 30 minutes in the event of a total AC power failure. Should power not be restored within this time, the UPS will automatically shut the server down to prevent possible corruption of the hard drives.
We installed a Kantech access control system to control access to the main control room and management rooms. We also installed new locking mechanisms on each controlled door, as well as break glass units, card readers, request for exit buttons and power supplies etc. 
As with all projects a 12-month warranty was given against all new equipment.
We recommend clients take out a comprehensive maintenance contract to protect their system and ensure that their investment continues to work for years to come. Our client understood the need to protect their investment and received the following:
2 Preventative maintenance visits per annum.

Telephone support to assist with minor training issues and basic problem-solving.

Speedy priority service to ensure swift attendance.

Temporary loan equipment (when available) whilst faulty equipment is being assessed.

A remote diagnostic service (where technically feasible) allows a remote reset of the system.
Independent family business, Clarion Security Systems is dedicated to ensuring clients have their security systems needs fully met, and are compliant at all times. We offer a full design, installation, service and remote monitoring of advanced electronic security solutions, including intruder alarms, access control and CCTV systems.
Clarion Security systems is an NSI Gold Installer as well as holding the coveted ISO 27001 accreditation. To schedule a FREE site survey please contact us on 08442 084422 or email us today to discuss your needs.
*Because we take our customers' privacy and security very seriously, we do not post actual project images*