Remote Commercial CCTV Monitoring
Remote CCTV Monitoring Since 1996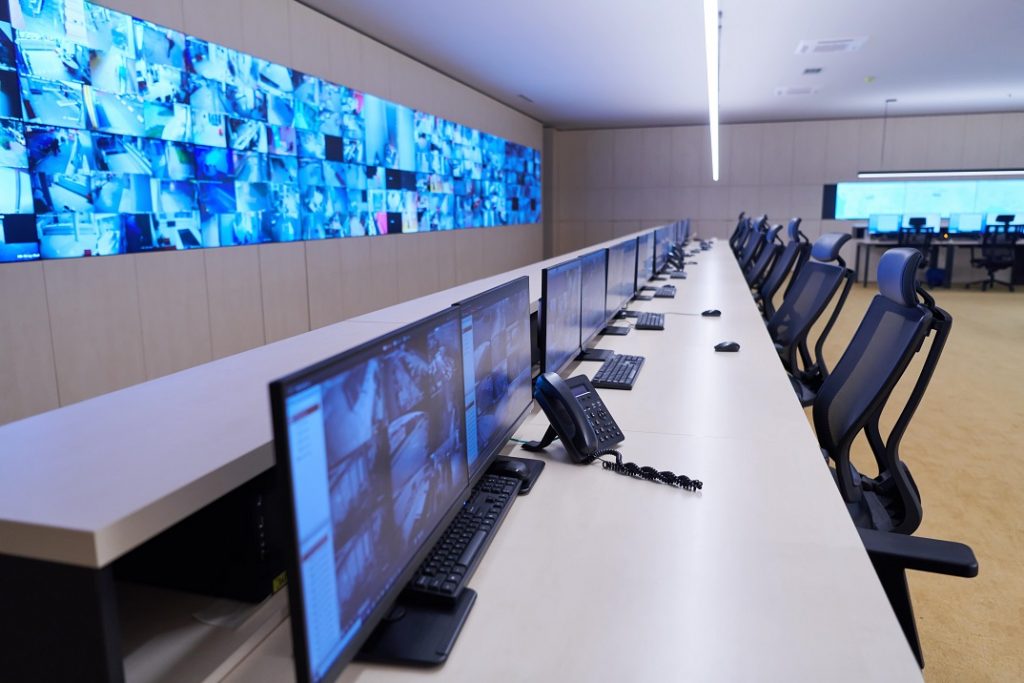 With the changes in high-speed internet over the past few years, your CCTV images can now be transmitted to a remote CCTV monitoring station outside of normal working hours.
The station will detect and deter criminal activity as soon as possible thus enhancing the safety and welfare of employees and significantly reducing potential damage and theft to your property.
Our remote CCTV monitoring stations are based externally and all CCTV operatives are certified and trained to the SIA (Security Industry Authority) standard.
They will monitor and respond to activation from your site through the use of sophisticated CCTV monitoring software.
Upon alarm activation from any camera, live images are transmitted to the remote CCTV monitoring station via a secure internet connection, where one of the security operatives will instantly monitor the situation. The operative will review the incident and confirm the cause of the alarm at your premises and act accordingly, escalating the event where necessary. Many systems are capable of broadcasting audio announcements, giving the operator the ability to deter potential threats before the crime is committed.
Remotely monitored CCTV systems are the equivalent of having your own security guard on-site, without the high costs. In many cases, the operative is able to deter crime before it occurs. However, if this fails to deter the intruder the Police will be notified immediately followed by the nominated key holder.
Remote CCTV monitoring is a service designed to closely monitor and action any emergency services response where necessary. It offers you the peace of mind that your premises are fully protected during your out-of-hours operations and is a truly viable alternative to onsite security guards.
What is remote CCTV monitoring and how does it work?
Many companies use CCTV to act as a stern deterrent to would-be intruders and to record incidents when they happen. Whilst this is an effective tool for many organisations, the use of CCTV alongside a remote monitoring service can quickly become a powerful and preventative addition to your security. A remote monitoring service can offer you the benefits of an on-site guard but at a fraction of the cost.
How does remote CCTV monitoring work:
Your internet connection will route the images from your CCTV cameras on your site, over to the screens of those based in an external remote monitoring station.
You can choose whether you would like your cameras to be monitored live at all times, or alternatively, you can switch monitoring on at the end of the working day.
The software that is used with the cameras will monitor activity on your site. As soon as an alarm is activated on your site, the incident is routed to the screen of a security professional.
Operators will then monitor all activity manually. These operators can move and zoom cameras, switch to cameras for a better view, and rerun recent footage.
What happens if a risk to your site is identified?
The emergency services will be called immediately, directly from the monitoring station.
SIA licensed professionals can call the key holder and anyone else you wish to be notified.
A loudspeaker public address system will be used to communicate with intruders.
According to statistics, nine times out of ten, loudspeakers and live warnings are enough to deter the intruders.
As events are being described as and when they happen, the emergency services will react regardless. If it was a static alarm signal without the visual verification, the incident may not be prioritised which would put your site at risk.
What are the features of remote monitoring?
Ability to monitor your site via the CCTV system whenever required.
Intelligent video analytics (use your camera image to detect movement on-screen).
Remote control of moveable cameras.
Audio warning via an external audio system.
All operators trained and licensed to Security Industry Authority (SIA) standards.
Bespoke design and integration capabilities with Intruder, Fire, and Access Control.
What are the benefits of remote monitoring?
Acts as a deterrent, reducing and preventing crime.
As effective as having a manned security guard on site.
Track every move of the potential intruder.
Online portal to see what actions were taken by the external monitoring station.
Communicate over public address speakers to deter the intruder.
Integration capabilities to streamline alongside other building services.
If you would like to find out more about the solutions we can offer you please contact us here or contact us on 08442084422 where we will be happy to assist you.