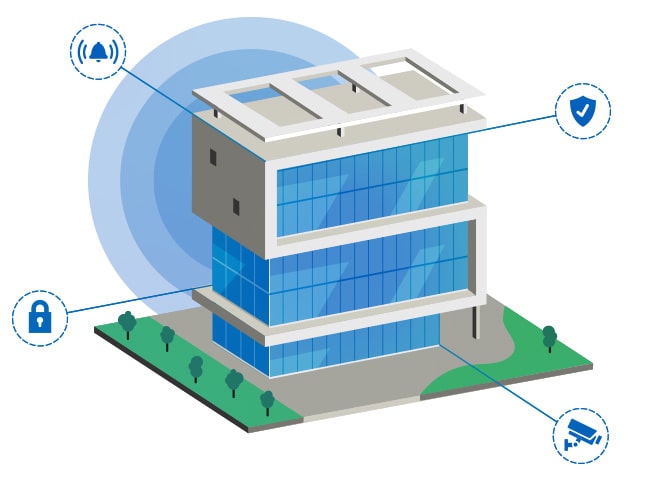 A large social enterprise, that has helped thousands of business owners across Manchester to create growth, jobs and improve lives over the last 30 years, approached Clarion in late 2021 for assistance.
The client approached Clarion after their current access control system, which another company had installed, had ceased to function. As you can imagine this caused numerous problems for our client and they needed a solution that would allow them to secure the building, as well as the access around it, quickly.
Clarion proposed the supply, installation & maintenance of a new Gallagher access control system that would control 20 access points with the majority configured as read in/readout technology. This is to allow users with access cards/fobs to both enter and exit access controlled rooms via a card reader.
We recommend to the client that they have installed "request to exit" buttons on the doors to allow the easy exit of all personnel from the building, even if they do not have an access card.  This is if there is an emergency where people need to be able to exit the building, or when the access control panel is not working.
We also replaced the existing BGU (Break Glass Units) on doors with double pole units, which is standard at Clarion, and this will offer three advantages:
Allow the resetting of the break glass unit if pressed via a key

A signal is sent to the access control monitored PC when a break glass unit has been activated. This allows security personnel to be notified and the issue investigated quickly.

An audio warning is made within the break glass unit to alert the user that it has been activated without permission.
As well as the access control, we supplied and installed 9 monitoring contacts on all fire/canteen doors with local alert sounders adjacent to each door. If a door is opened a local sounder will activate adjacent to each door and also alarm on the reception PC via the Gallagher access software.
We also upgraded power supplies and cabling in order to future proof the client's investment,  as well as the supply and set-up of 200 Gallagher access fobs for the customer's personal and visitors to use.
As with all projects a 12-month warranty was given against all new equipment.
We recommend clients take out a comprehensive maintenance contract to protect their system and ensure that their investment continues to work for years to come. Our client understood the need to protect their investment and will receive the following: 
1 x Preventative maintenance visit per annum.

Telephone support to assist with minor training issues and basic problem-solving.

Speedy priority service to ensure swift attendance. 

Temporary loan equipment (when available) whilst faulty equipment is being assessed.

A remote diagnostic service (where technically feasible) allows a remote reset of the system.
Terry Dunn, Clarion's Engineering Manager, said of the project "Having a robust security system in place is paramount to keeping data secure, access-controlled and to limit any potential thefts. As with all Clarion projects we worked in true partnership style with the client, from the initial enquiry, site visit, installation visit and training and commissioning." 
Independent family business, Clarion Security Systems is dedicated to ensuring clients have their security systems needs fully met, and are compliant at all times. We offer a full design, installation, service and remote monitoring of advanced electronic security solutions, including intruder alarms, access control and CCTV systems.
Clarion Security systems is an NSI Gold Installer as well as holding the coveted ISO 27001 accreditation. To schedule a FREE site survey please contact us on 08442 084422 or email us today to discuss your needs.
*Because we take our customers' privacy and security very seriously, we do not post actual project images*