Gallagher Access Control Systems UK
Gallagher Access Control Manchester, North-West and across the UK since 1996

Gallagher System solutions are designed for enterprise access control systems and deliver enhanced security, data encryption, and access management through their Control Centre software, mobile applications, and integration.
With almost 92 percent of the population now owning a smartphone, Gallagher provides the ability to use mobile credentials to gain entry to doors. As a result, a future-proof solution is provided while costs for access control cards/fobs and lead times are reduced.
For individuals who do not have a compatible phone, you can still provide a card or fob access to them, allowing you to tailor access solutions to your users' specific needs.
With two-factor authentication (phone credential plus PIN, fingerprint, or Face ID) adds additional security to the access solution, and further ensures the people coming through the door are who they say they are. If you have planned visitors to your premises, you may also set up remote access with a simple two-step process.
Flexible finance options
We understand that financial security is just as important as the systems that protect your premises.
That's why we offer a range of financial payment options on your security equipment, helping to protect your cash flow as well as your site.
We have been recognised as a Gallagher partner in Manchester for our work on large-scale projects. Clarion Managing Director Chris Billinge is pictured below winning an award for a school access control project that we completed utilising Gallagher products.
Clarion MD, Chris Billinge, went on to say about the award, "We are incredibly happy to be awarded the Best New Channel Partner by Gallagher. The partnership we have is built on providing the best bespoke solutions based on the needs of each customer. We are looking forward to building upon this collaboration in the years to come and have some fantastic projects coming up, of which Gallagher will be an integral part. As a Gallagher Certified Channel Partner, we are able to meet the access management needs of a range of customers, from educational bodies, multi-site organisations, and corporate enterprises, through to multi-tenanted buildings and large national infrastructure facilities."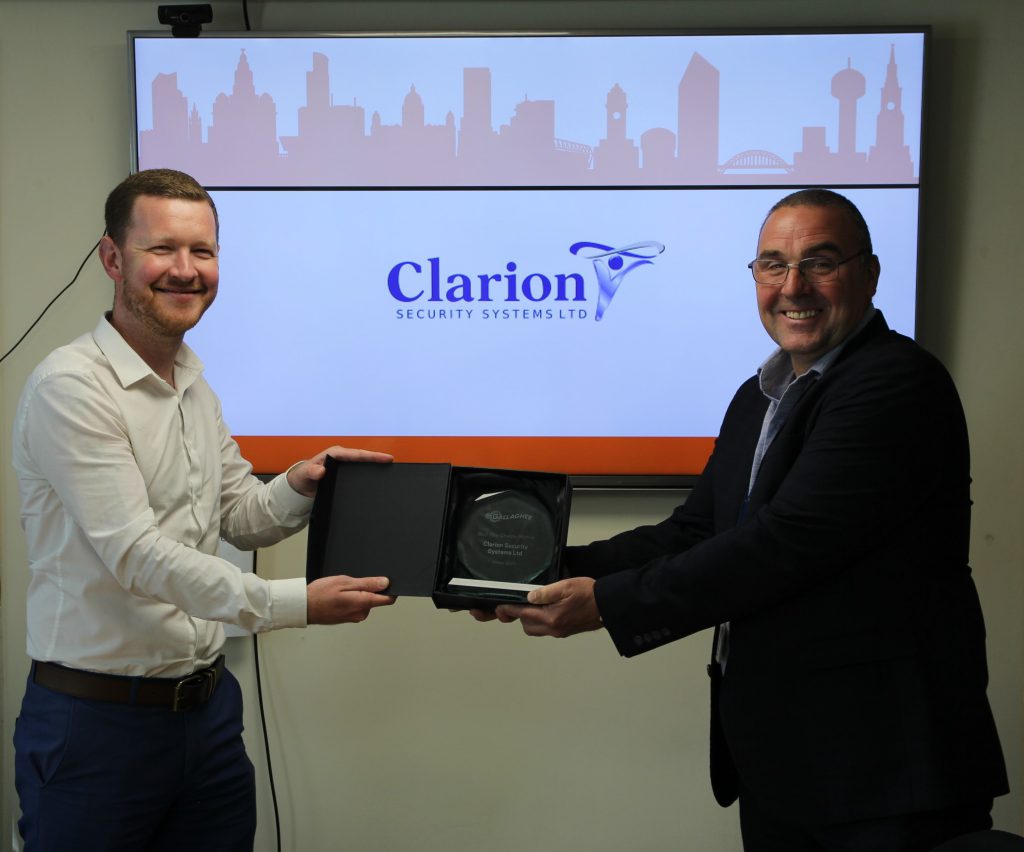 Gallagher Access Control Partners
We are proud to partner with Gallagher Security as they offer award-winning access control solutions throughout the world via accredited partners.

Gallagher Command Centre software is the powerful software that is at the heart of its integrated solution, it is highly configurable and can be tailored to suit your exact needs and requirements when it comes to an access control system. The Gallagher Command Centre also delivers reporting on all aspects of your system and configurable management, meaning that as changes occur, your system will still work as expected.
With a Gallagher access control solution, you can:
Set zone and door entry rules
Monitor access points to know 'where, when and why people are on your site at all times
Manage site access proactively by integrating with current HR systems to share information about cardholder clearances, credentials, inductions, required permissions, licences, and other competencies.
Compliance with government regulations and business health and safety policies are automatically enforced.
Welcome, manage, and restrict visitor access to ensure that your duty of care and health and safety duties are met.
Respond quickly with a dependable and efficient emergency management system that includes lockdowns and alarms.
After-hours control of outputs such as lighting, heating, ventilation, and air conditioning, with a smart system regulating facilities based on who is there.
Manage intruder alarms with optional handover to alarms monitoring stations.
Complete site management
Gallagher Command Centre is a robust software solution designed to let you manage access control on your site easily and simply.
Command Centre, which can be fully customised to meet the specific demands of your site, allows you to configure, manage, and report on all parts of your system.
With seamless connectivity with other products, you operate with a single strong software platform, simplifying staff training and increasing business efficiency.
Whether you need access control across a single facility or across several geographic sites, Command Centre delivers. You're in charge.
Control cardholders' access, cards, and picture identity.
Control all system elements and monitor alarms.
Retrieve and report on system data that has been saved.
Interact with and exchange data with third-party systems.
Configure the website as well as other system components.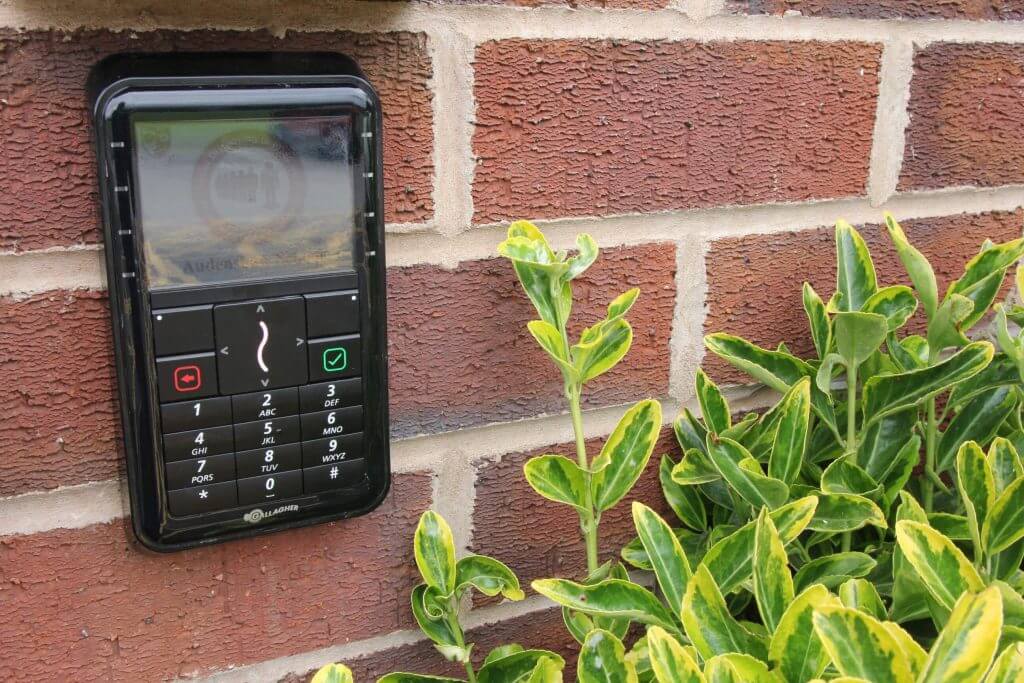 Gallagher Access Controllers
The Gallagher Controller 6000 (C6000) provides a powerful interface and sits between the hardware and the Gallagher Command Centre server, and is capable of communicating data, processing and storing data in real-time.
The Controller 6000 has the ability to communicate with other integrated systems, enforce business rules, monitor its environment and make offline decisions.
Gallagher Access Control Features
Clarion looks to partner with brands that deliver enhanced functionality and lower life cost ownership to our customers. Gallagher Access Control meets these standards that we expect and offers a range of systems based on a customer's exacting needs. They also provide a flexible solution as your needs grow over time. The Gallagher Access Control portfolio of software and hardware delivers cost-effective enterprise access control solutions.
Clarion offer a range of commercial security systems, business CCTV systems, access control systems and commercial intruder alarms for clients in Manchester, the North West and across the UK. For more information on our services, please contact us today to discuss your needs.
We have worked in Scotland, London and across the UK. To discuss your Gallagher Access Control project, please use the contact forms on this page and one of our friendly team will get back to you within 24 hours (usually sooner).
See our other valued partners