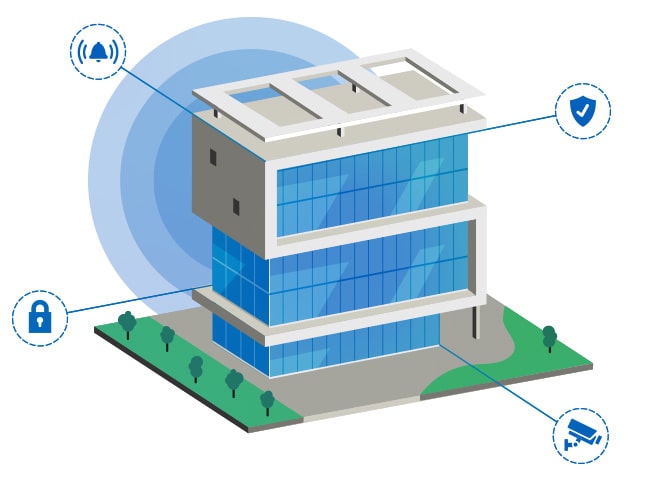 When our client contacted Clarion in April 2022, they requested that we design, install, and maintain a system to protect their people, property, and assets. They also required guidance on their procedures to ensure that they met ISO standards.
Our client employs 350 people and works in the property law sector; they needed to ensure that access to their building was secure, as well as that they had the proper processes and procedures in place to pass an ISO audit demonstrating that they safeguarded access to information and ensured that employees could only view information that was relevant to their work.
We discovered that the existing locking elements on the doors were not secure during the FREE survey and recommend that the client install a new locking mechanism consisting of monitored maglocks and all door leafs (16x), with each door configured as read-in and request to exit button out. To comply with regulations, each adjacent door will have an emergency release button.
For the access control system, we specified a Gallagher access control system as it is an enterprise solution which was ideally suited to the client's requirements. Below are some of the benefits of Gallagher:
Full encryption
Set door and zone entry rules.
Monitor access points to know where, when, and why people are on your site at all times.
Proactively manage site access by integrating with existing HR systems to share information about clearances, credentials, inductions, required permits, licenses, and other information.
Set competencies for card holders.
Automatically enforce business health and safety policies and compliance with government regulations.
Welcome, manage, and control access for visitors, ensuring your duty of care and health and safety obligations are met.
Respond rapidly with a reliable and effective emergency management system, including lockdowns and alerts.
Control outputs such as lighting, heating, ventilation, and air conditioning after-hours, with a smart system managing facilities based on who is on site.
Manage intruder alarms with optional handover to alarms monitoring stations.
NFC compatible
We recommend clients take out a comprehensive maintenance contract to protect their system and ensure that their investment continues to work for years to come. Our client understood the need to protect their investment and will receive the following:
1 x Preventative maintenance visit per annum.
Telephone support to assist with minor training issues and basic problem-solving.
Speedy priority service to ensure swift attendance.
Temporary loan equipment (when available) whilst faulty equipment is being assessed.
A remote diagnostic service (where technically feasible) allows a remote reset of the system.
Independent family business, Clarion Security Systems is dedicated to ensuring clients have their security systems needs fully met, and are compliant at all times. We offer a full design, installation, service and remote monitoring of advanced electronic security solutions, including commercial intruder alarm systems, commercial access control and business CCTV systems.
Clarion Security systems is an NSI Gold Installer as well as holding the coveted ISO 27001 accreditation. To schedule a FREE site survey please contact us on 08442 084422 or email us today to discuss your needs.
*Because we take our customers' privacy and security seriously, we do not post actual project images*