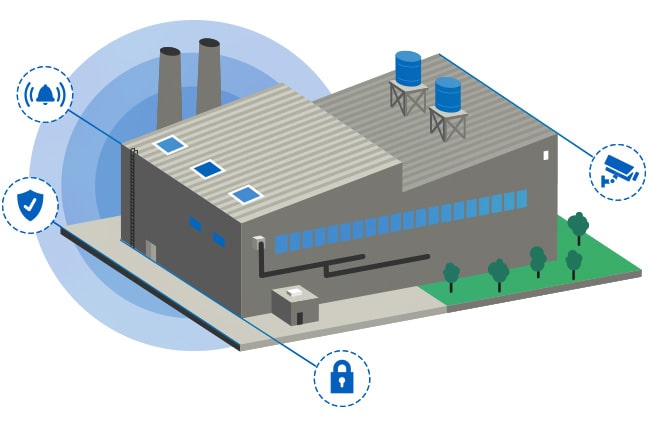 Our customer's factory in Wigan produces materials for the construction sector. They asked Clarion to build a new HD IP Enterprise Avigilon CCTV System in January 2022.
The objective of this project was to provide the client with a high level of coverage across the site, predominantly providing coverage of all internal areas.
For this project, we specified Avigilon and installed over 30 new HD IP cameras to provide incredibly detailed coverage of the site. We installed 9 x 2.0MP external bullet cameras, 1 x 5.0MP external bullet camera (big lens) to give greater coverage of the main entrance gate, 2 x 12.0MP 360 Hemispherical Fisheye cameras, 2 x 8.0MP 360 Hemispherical Fisheye cameras, and 16 x 2.0MP H5 dome cameras, and 1 x 5.0MP H5 dome camera (externally rated) with infrared to provide a detailed image of the warehouse. 
We also provided the full network to manage and operate the system, this included a comms cabinet, Avigilon ACC7 for hosting and watching the footage, and a server to capture and save footage, in addition to the cameras.
As with all projects, we worked in a manner to create the least possible disruption for the client's business activities, and they were able to operate as normal throughout the project. 
We offered extensive user and operational training after the project was commissioned, allowing the client to use the system and take full advantage of its capabilities.
We recommend clients take out a comprehensive maintenance contract to protect their system and ensure that their investment continues to work for years to come. Our client understood the need to protect their investment and will receive the following:
1 x Preventative maintenance visit per annum.

Telephone support to assist with minor training issues and basic problem-solving.

Speedy priority service to ensure swift attendance.

Temporary loan equipment (when available) whilst faulty equipment is being assessed.

A remote diagnostic service (where technically feasible) allows a remote reset of the system.
Clarion Security Systems is dedicated to ensuring clients have their security system needs fully met, and are compliant at all times. We offer a full design, installation, service, and remote monitoring of advanced electronic security solutions, including; commercial alarms, door entry, and commercial CCTV.
Clarion Security Systems is an NSI Gold Installer as well as holding the coveted ISO 27001 accreditation. To schedule a FREE site survey, please contact us on 08442 084422 or email us today to discuss your needs.
Because we take our customers' privacy and security seriously, we do not post actual project images*