Commercial Door Entry Systems
Door Entry Systems Manchester, the North-West and across the UK since 1996.
Our door entry systems cover a wide range of methods in which to securely allow access to and from a restricted area, zone or building for authorised personnel.
There are a wide variety of door entry systems available, some of which are listed below:
PIR-triggered automatic doors
PIN code keypads
Contactless proximity readers
Biometric door entry using face recognition, fingerprint readers or iris recognition
A door entry system can simply be an unlocking device for internal and external doors, or it can serve as an intercom, which then provides total control over who enters restricted areas within a building.
Look Out For The NSI Gold hallmark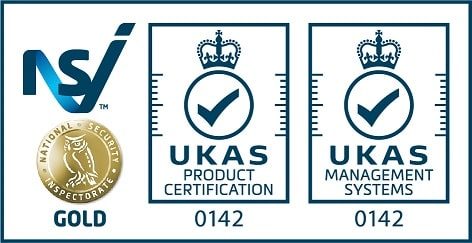 If you are looking for a partner to advise and provide a door entry solution for your premises it is vital that you look for a company that is NSI Gold accredited. Clarion has been NSI Gold accredited since 2006.
It is the most widely recognised accreditation in the security systems industry, and it tells you that the company is:
Technically Competent
NSI Gold accredited companies have relevant technical experience and work to International and British Standards and NSI Codes of Practice.
Professional
Operate a Quality Management System to ISO 9001 and NSI Quality Schedules.
Trusted
Reputable Directors & leaders with relevant business experience and effective employee security screening.
Commercial Door Entry Systems
Door entry systems help regulate access to areas within a building or grounds. Here at Clarion, we work with a wide variety of commercial, industrial and public sector clients to provide bespoke solutions based on your exacting needs.
There are various kinds of commercial door entry systems that we can use on your project, ranging from keypads to video and proximity readers. Before specifying products to you we will listen and understand how your organisation operates and then provide tailored solutions based on this, as well as your budget.
Door entry systems help remove the need for manual control of access, eliminate the need for multiple keys and help with the management and audit of access of personnel within your grounds.
Purpose of Door Entry Systems
Before we look at the different types of door entry systems available to you, it is essential we first look at the benefits that they provide. A door entry system is there to prevent unauthorised persons from accessing a given area or room.
A basic example of a door entry system would be a keypad. It simply requires you to input the correct key code to gain access. The below examples of door entry systems rely on specific mechanisms in order to work.
Video Door Entry Systems
The use of a video door entry system (sometimes known as an intercom system) is a system that uses video in order for the operator to visually verify who the user is, before then granting them entry. Although a great solution they do require someone to be there to be able to visually verify who the person is.
They can be used on a variety of buildings and premises and create a barrier to gaining access. They are best used when the number of persons requesting access to your building is not that high, as this may create a bottleneck.
Audio Door Entry Systems
An audio door entry system is similar to video door entry systems, rather than video, they use audio to verify who they are. In simple terms they press a button, say who they are and then your personnel can either grant or reject access to your building.
They are not the safest form of security as verification is based on voice alone. They work well in areas that do not require high levels of security.
Wireless Door Entry Systems
Wireless door entry systems come in various specifications and can also use video and audio verification methods. Rather than being hard-wired, they are wireless which helps reduce cabling and labour costs. Again this verification method relays on a face or voice being recognised and then entry being granted or rejected.
Some of the various wireless door entry systems have features such as two-way talk and night vision.
Flexible finance options
We understand that financial security is just as important as the systems that protect your premises.
That's why we offer a range of leasing options on your security equipment, helping to protect your cash flow as well as your site.
Proximity Readers
Proximity readers are the most common type of door entry system and the ones which are largely used as commercial door entry systems. The user simply swipes a card or presents another type of security token, such as a fob, in order for the reader to verify who they are and if they have the correct access levels to gain entry to that door.
With door entry systems like this, you are able to grant access to certain locations, rooms and buildings based on individual needs and requirements.
One of the advantages is that a card can quickly be deactivated, resulting in the card no longer being able to be used to grant access to any room or building on your premises. The card can also be deactivated if it gets lost or stolen and there will be no adverse effects to you. If you used keys you would have to get locks changed and new keys issued, a door entry system removes this expansive cost.
The overall safety of a proximity reader door entry system is high. They are also one of the most affordable systems.
Biometric Door Entry Systems
Biometric door entry systems use physical or biological attributes to verify identity and provide access. This can include handprints, fingerprints or retinal scans. Pair these systems with other door entry systems and they can deliver maximum security for your site.
However, these systems do not come cheap. Also, there is the fear and suspicion that one's identity can be tracked. It is even seen by some as being an invasive system.
They can also experience issues with accuracy and are often used in locations where traffic is not that high.
Keypad Door Entry Systems
As mentioned earlier, keypad door entry systems use codes or passwords to provide access. The code/password will need to be inputted manually before access is granted.
Although these systems are safe, the sharing of codes and passwords is common, so look to pair this with a biometric system to further enhance control and security.
Choosing a Door Entry System
The right door entry system depends on a multitude of factors, so an analysis of your premises needs to be undertaken before products can be recommended. Here at Clarion, we offer a FREE site survey to allow you to understand how we can help with your commercial door entry system project.
The 4 Stages of Your Commercial Doore Entry Project:
Ensuring projects run smoothly starts by doing the basics correctly, this is why we follow the same procedure for all projects to ensure that your project runs on time, to budget and meets your requirements.
Please take a look at the below steps to see what is involved with your door entry system project.
Brief & Survey
We will visit your premises to understand your requirements, budget and layout of your site. As an NSI approved company we will also carry out a risk assessment as an added benefit to your survey, the risk assessment will consider:
The level of security required to meet customers' needs
Cyber-security
The number of people using the system
How visitors would be managed
The selected recognition technology
The businesses activities
Design & Proposal
Our team will then get to work on the plans and design of your access control system, before presenting you with a proposal, as well as costs for both an outright purpose and also a leasing option if preferred.
Installation & Training
We will plan the installation at a date that is convenient for you and ensure that you know how long it will take, the project manager handling your project and the engineer(s) who will be installing your door entry system.
If you need anything you have direct contact with your project manager to ensure your project runs smoothly.
After your project is finished we provide training and a manual so you know how to fully operate your system.
As part of your quote, we recommend that you take out an annual maintenance contract to ensure your system remains fully operational.
After your project is completed we will also provide you with a certificate of compliance, this shows that your installation was installed by an approved company and meets the appropriate standards.
This may be required by your insurance company as proof that your premises meet key criteria as a condition of your insurance or to give you an insurance discount.
24/7/365 Support
All maintenance customers will benefit from access to our 24/7 telephone support, technical support and priority service. If you ever need anything all you have to do is email or call us.
Partners
The Sectors We Work In
View the locations where we work here.