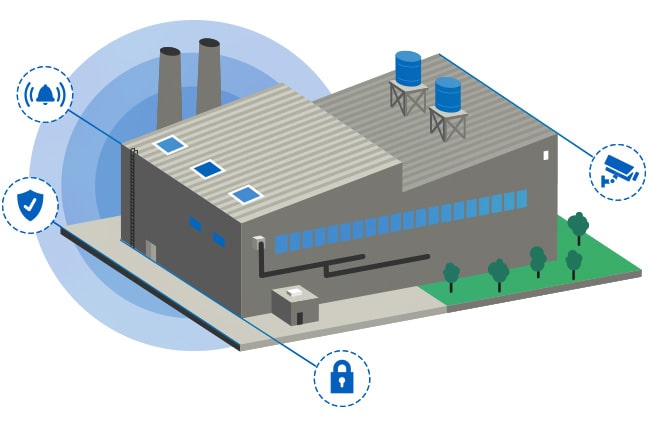 Our client is one of the world's leading producers of certified sustainable palm oil. They needed a reliable and robust solution in order to monitor a new tank farm that was being constructed due to expansion.
We recommend to the client a new Avigilon HD CCTV solution to be installed to enhance the quality & effectiveness of site security & management. The system consisted of 17 new full HD cameras which streamed back to a new high-capacity server located within the client's office.
We built the CCTV server to have 8 x 8Tb hard drive configured in a RAID5 array providing approximately 64Tb of storage for CCTV footage. The system was configured to record all cameras at a rate of 1 x image per second & upon the detection of movement, to increase to 13 x images per second per camera. Image retention was set at 31 days as a minimum and we also supplied and installed new 24" LED HD monitors to aid management of the system.
Remote connectivity, control & management was also provided where required using Avigilon's ACCv7 Standard Client software. This requires an active network connection onto the client's network to allow ACC7 Client to be installed on nominated machines. Avigilon's CC software is able to simultaneously record, view & control both analogue cameras, standard IP cameras & the very latest megapixel cameras. This flexibility gives a great advantage to anyone looking to safeguard past, present & future investments. In addition, high image compression technology enables the recording of high-resolution images to be extended further than its nearest rivals.
Once the project was fully commissioned we provided a range of manuals for the CCTV System, consisting of Data Sheets, Client operating instructions, and an as fitted specification to help the client in the day-to-day usage of the system.
Independent family business, Clarion Security Systems is dedicated to ensuring clients have their security systems needs fully met, and are compliant at all times. We offer a full design, installation, service and remote monitoring of advanced electronic security solutions, including intruder alarms, access control and CCTV systems.
Clarion Security systems is an NSI Gold Installer as well as holding the coveted ISO 27001 accreditation. To schedule a FREE site survey please contact us on 08442 084422 or email us today to discuss your needs.
*Because we take our customers' privacy and security very seriously, we do not post actual project images*