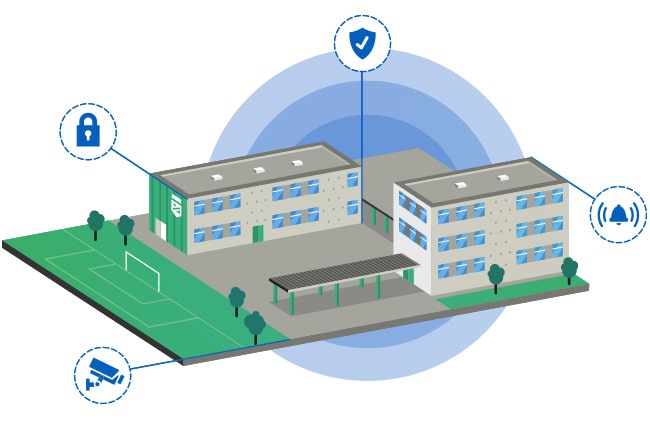 Our client operates an academy in Blackburn for youngsters aged 11 to 18. They needed a solution that would ensure that all of the school premises' key areas, including internal and outdoor, were fully covered by CCTV cameras. When the customer contacted Clarion in June 2022, they asked us to identify a solution that would meet their needs.
As with all projects, we began with a free site survey to determine the client's needs and to identify areas that required CCTV coverage. Following the survey, we spent time designing a CCTV system that covered all of the school's essential areas. This was then sent to the client to review, along with a comprehensive quote.
Here at Clarion, we only supply products that meet our high standards of excellence. For this project, we specified Avigilon CCTV cameras, which are cutting-edge and can meet a variety of bespoke requirements. The cameras we recommended also came with a 5-year warranty, giving the client peace of mind about their investment in the project.
The project included the installation of 55 new cameras as well as the relocation of three existing cameras to various sections of the site. The project also included connecting the cameras to the school's network and the present Avilgon CCTV system, allowing every camera, new or old, to be watched and recorded. We also delivered a new server to replace the obsolete incumbent, as well as a two-monitor tower workstation PC for the school to examine footage when needed.
To minimise interruption, the project installation took place over two weeks and coincided with a school holiday. Prior to client sign-off and training, all systems were tested and commissioned following installation.
"Clarion has completed multiple projects at our school, and I have always found them to be extremely competent, diligent, and pleasant to deal with. I would recommend them for electronic security systems to any local school."

A.C. Strategic Manager ICT
Clarion Security Systems is dedicated to ensuring clients have their security system needs fully met, and are compliant at all times. We offer a full design, installation, service, and remote monitoring of advanced electronic security solutions, including; School alarms, School access control, intercoms and School CCTV.
Clarion Security Systems is an NSI Gold Installer as well as holding the coveted ISO 27001 accreditation. To schedule a FREE site survey, please contact us at 08442 084422 or email us today to discuss your needs.
Because we take our customers' privacy and security seriously, we do not post actual project images*