Business Intercom Installers Manchester, the North-West and across the UK
Our commercial intercom systems give you the freedom to control visitors to your premises by visually and/or audibly identifying callers as they arrive. We have been Installing commercial intercom systems in Manchester, the North-West and across the UK since 1996.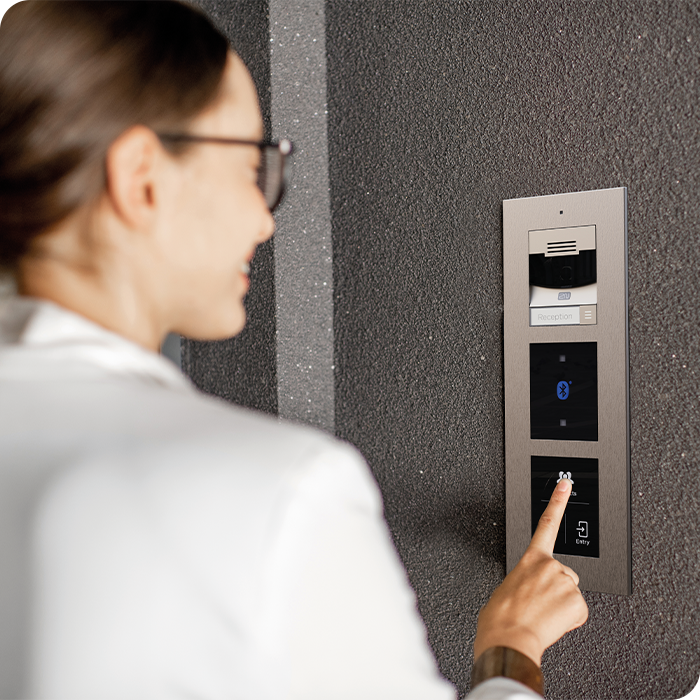 With the ever-increasing threat of incidents in the workplace, it's now more essential than ever to monitor and grant access to authorised visitors as well as allowing quick and smooth entry to personnel in and out of the workplace. Our commercial intercom system will allow you to have full control over who is granted access to your building and when.
Clarion's commercial intercom systems are installed at most entry points or in strategic areas of commercial establishments. Employees can communicate efficiently over large areas making business operations much simpler.
For example, you can use the same intercom system to allow people into your building, whether you're one metre away from the entrance point in question or are 30 floors up. The quality of audio will not be compromised.
Our commercial intercom systems range from a single call point to an enterprise-wide IP-based solution using existing or new network infrastructures. Our vast array of solutions can accommodate virtually any application regardless of size or location.
You may have searched 'intercom manchester', 'intercom installers manchester' or 'commercial intercom systems' to find our website. No matter how you found us you are now in the right place when it comes to finding a reliable, experienced and budget-friendly partner to install and maintain your commercial intercom system.
Get In Touch
To discuss your commercial intercom system project, please use the contact forms on this page and one of our friendly team will get back to you within 24 hours (usually sooner).
Call our team on 08442 084422 8:30 a.m. to 5:30 p.m Monday to Friday to discuss your needs.
IP Intercom System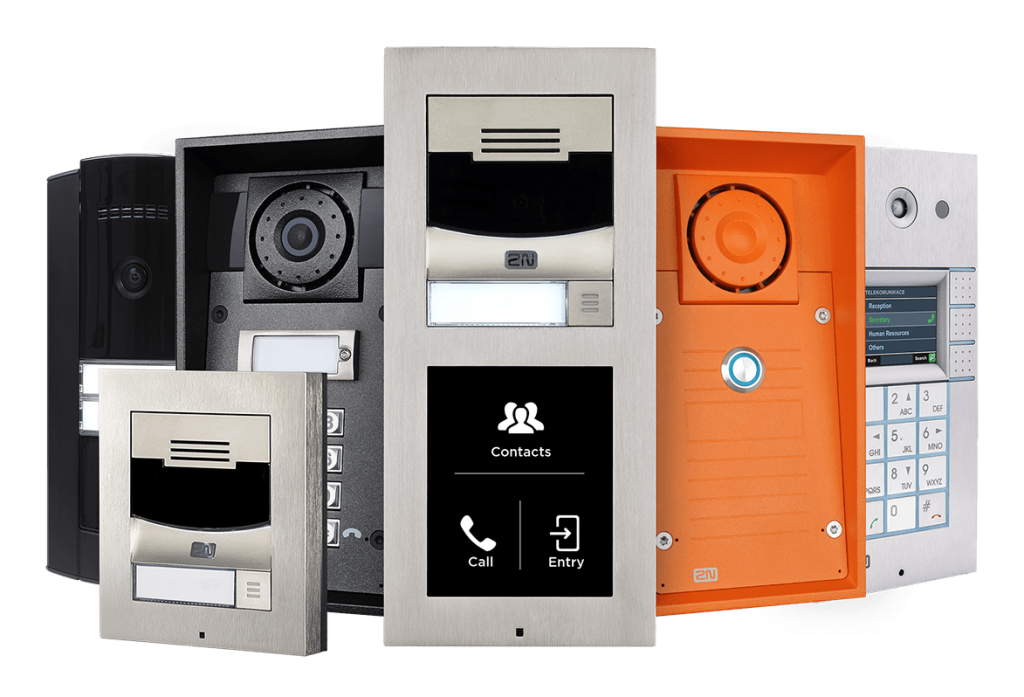 The IP innovation has allowed for the development of an extensive range of intelligent new features for door entry and intercom products.
IP intercoms offer a range of flexible and impressive functions that help streamline work processes, such as call diversion, call redirection, and re-routes to external handsets and mobile phones with voicemail capability. Each intercom can act in place of concierge staff, meaning staff time can be spent elsewhere.
Unlike conventional intercom systems, IP intercoms are completely futureproofed and the scalability options are endless. Simply start with as little as one intercom handset and then build on this as and when your needs require.
Easily add an extra 50, 100, or 1000 intercom handsets as your organisation changes and grows.
IP intercom systems sit on your existing IP network and can easily be integrated with third-party applications that may already form part of your IT infrastructure. These could be applications like CCTV, Access Control, and Intruder Alarms.
This adds more options for greater flexibility and ease of use, creating a more streamlined and centrally managed intercom door entry system for your organisation.
Look Out For The NSI Gold hallmark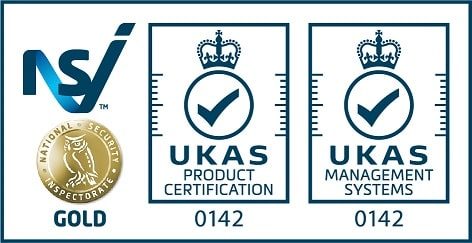 If you are looking for a partner to advise and provide an access control solution for your premises it is vital that you look for a company that is NSI Gold accredited. Clarion has been NSI Gold accredited since 2006.
It is the most widely recognised accreditation in the security systems industry, and it tells you that the company is:
Technically Competent
NSI Gold accredited companies have relevant technical experience and work to International and British Standards and NSI Codes of Practice.
Professional
Operate a Quality Management System to ISO 9001 and NSI Quality Schedules.
Trusted
Reputable Directors & leaders with relevant business experience and effective employee security screening.
Top 5 benefits of an Intercom System For Business
A Door Intercom System For Business Gives You Flexibility
When compared to traditional analogue intercom systems, IP innovation has allowed for the development of an extensive range of intelligent new features.
IP intercoms offer an impressive functionality, whereby visitors' calls can be re-routed to another line should an individual not be present to allow access to the premises. For example, visitor A uses the intercom call button in order to speak to Tim in Sales, this rings straight through to Tim's desk in order for him to let visitor A in.
If Tim doesn't answer within an allotted time period, the system can be programmed to ring through to Dave's line in Sales and so on and so forth. Or, if you wish, you can set the system up to allow the visitor to leave a voicemail on the line.
A Building Intercom System Is Easy To Install
When compared to basic analogue systems, IP intercom solutions are very easy to install.
IP intercom systems operate over your existing IP infrastructure, meaning less cabling and less time spent on site, thus saving on installation costs. This also means much less disruption to the workplace as a whole.
An Intercom System Gives You Great Performance
Whether you choose to install an audio IP intercom or video IP-based intercom, the performance quality that IP systems offer is sure to impress. No longer will you experience crackle on the line, poor sound quality, or "block/choppy" pixelated images on your video handset.
A Commercial Intercom System Gives You Scalability
One of the biggest benefits of IP intercom systems is the scalability options they bring. Whether your first IP intercom installation requires just one call point or 500 call points, you can easily expand and add to the system as and when your needs/budgets require.
Dated analogue systems are often constricted to the number of call stations they can hold on the system due to extensive cabling. With an IP intercom system, your solution is fully future-proofed.
An IP Intercom Gives You a Fantastic Corporate Image
An IP intercom system is likely to impress and enhance the customer/visitor experience at their first point of contact with your premises.
Intercom systems work well in both small and large organisations and those organisations that can expect visitors and customers throughout the day.
Get In Touch
To discuss your commercial intercom system project, please use the contact forms on this page and one of our friendly team will get back to you within 24 hours (usually sooner).
Call our team on 08442 084422 8:30 a.m. to 5:30 p.m Monday to Friday to discuss your needs.
Door Intercom Systems
We specialise in door intercom systems for a variety of businesses, housing associations, warehouses, and many commercial establishments.
With our experience spanning nearly two decades, we design, supply, install and maintain all types of door intercom systems to satisfy any security needs.
Whether you require an IP-based intercom system over multiple sites or a door intercom system for a small office block, you can be assured our team will deliver the best solution for your premises.
There are various types of door intercom systems available in today's market depending on the security needs of your organisation and your existing IT infrastructure.
Video Door Intercom Systems
A video intercom device forms part of a system that allows visitors to communicate at an entrance point, be it a front door, vehicle barrier, or gate.
Upon communication from the visitor, the door entry release handset will present a video image of the visitor on the internal video entry phone, giving you the option to grant or deny access.
Video door intercom systems add extra security to your premises, allowing you to view the visitors before entry is granted and giving you full control over visitor access when you require it.
What Are The Benefits Of A Video Door Intercom System?
They Improve the security of your building by adding a layer of protection when it comes to people entering your business environment.
Thye can be managed on a range of devices, from a telephone on your reception desk to a mobile app, they operate in a way which is geared to your individual needs and requirements.
IP based intercom systems save you money by reducing cabling requirements and the time taken to install the system.
Audio Door Intercom systems
Audio intercoms usually consist of an external call point at an entrance and an internal door entry phone which allows visitors and staff to communicate clearly.
Audio intercoms can also be set up to open a gate, doors or barrier directly from the handset itself. Depending on the type of intercom installed, messages can be left if the correspondent isn't available or the audio intercom can transfer intercom calls to an external line, should your needs require it.
This functionality is available on both video door intercoms and audio door intercoms.
What Are The Benefits Of A Audio Door Intercom System?
It is cost-effective if you are looking to improve communication between two or more points on a budget. When there is no need for a video system an audio intercom system is an answer. They can be between 20 – 50% cheaper than Video.
IP based intercom systems using audio are also able to take advantage of IP based technology. As with video intercoms, you are able to reduce project costs by sending Voice Over IP (VOIP) instead of cabling back from remote locations.
The 4 Stages of Your Business Intercom System Project:
Ensuring projects run smoothly starts by doing the basics correctly, this is why we follow the same procedure for all projects to ensure that your project runs on time, to budget and meets your requirements.
Please take a look at the below steps to see what is involved with your business intercom system project.
Brief & Survey
We will visit your premises to understand your requirements, budget and layout of your site. As an NSI approved company we will also carry out a risk assessment as an added benefit to your survey, the risk assessment will consider:
The level of security required to meet customers' needs
Cyber-security
The number of people using the system
How visitors would be managed
The selected recognition technology
The businesses activities
Design & Proposal
Our team will then get to work on the plans and design of your commercial intercom system, before presenting you with a proposal, as well as costs for both an outright purpose and also a leasing option if preferred.
Installation & Training
We will plan the installation at a date that is convenient for you and ensure that you know how long it will take, the project manager handling your project and the engineer(s) who will be installing your intercom system.
If you need anything thing you have direct contact with your project manager to ensure your project runs smoothly.
After your project is finished we provide training and a manual so you know how to fully operate your system.
As part of your quote, we recommend that you take out an annual maintenance contract to ensure your system remains fully operational.
24/7/365 Support
All maintenance customers will benefit from access to our 24/7 telephone support, technical support and priority service. If you ever need anything all you have to do is email or call us.
Partnering with the very best
We are supported by some of the world's biggest security system brands.
Commercial Intercom System FAQs
Which intercom system is right for your business?
We know that intercom systems are an excellent way for schools, offices, buildings and other commercial entities to protect their people, processes and assets. However, the system you choose is based on your premises, personnel, budget and requirements.
You may think that an intercom system is where you press a button outside a building and then you speak to somebody inside, who then verifies you and grants you access. However, with video functionality added to them, you can also monitor a whole host of situations that happen right outside your premises whilst also providing a video authentication method for your security.
In order to ensure that you have the correct intercom system installed, we will ask you a range of questions to ascertain your needs. As we provide a FREE survey it is well worth contacting us either by email or on 08442 084422.
Which Businesses Might Need An Intercom system?
Anyone that wants to protect people, property and assets should have an intercom system. A School with children and staff, a warehouse with thousands of pounds of stock or an office with valuable data and equipment.
Security should not be an afterthought, it should be something that is thought about at the beginning in order to give you peace of mind that you have layers of security that will help protect what matters.
Why Do You Need An Intercom System?
A commercial intercom system is a key requirement to stop unwanted personnel from accessing your building or premises. It will also allow you to track who is inside your building in the vent of an emergency.
Rather than letting anyone walk into your premises/building unchallenged an intercom allows you to verify who they are before letting them enter. You have control over whether you let them in or not. Therefore if you want to keep someone out, and the people inside safe, an intercom system allows you to do just that.
Get In Touch
To discuss your commercial intercom system project, please use the contact forms on this page and one of our friendly team will get back to you within 24 hours (usually sooner).
Call our team on 08442 084422 8:30 a.m. to 5:30 p.m Monday to Friday to discuss your needs.
Partners
The Sectors We Work In