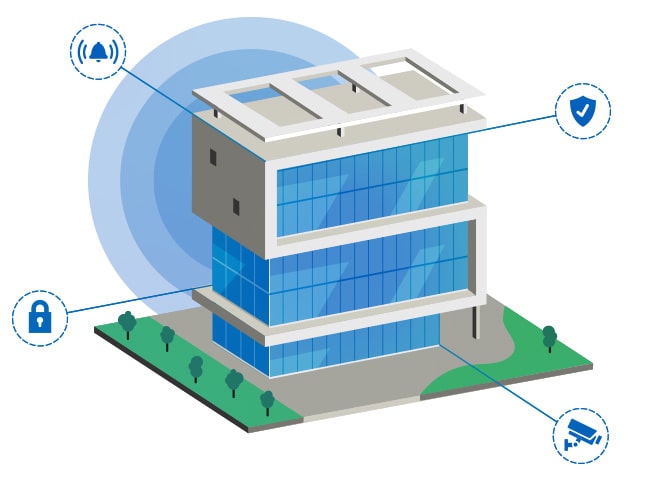 Our client has a cutting-edge office in the heart of Manchester's business district. They required remote monitoring of access-controlled doors if they were forced open, as well as to increase CCTV image quality throughout the site. Clarion was approached by the customer in May 2021 and requested to develop a solution to their requirements.
Our customer required a budget-friendly solution for remote CCTV monitoring across several access-controlled doors. When a door is pushed open, an alarm signal is transmitted from the Ccure 9000 access control system, and the system is programmed to trigger through to the remote monitoring station.
This entails installing a high-definition IP camera (Internet Protocol cameras, also known as IP cameras or network cameras, which provide digital video surveillance by sending and receiving footage over the internet) by each access-controlled door to provide visual verification of the potential intruder to the remote monitoring station.
We put new PIR detectors (PIR detectors operate by detecting infrared light given off by a moving item or person that releases heat) in locations where an access control door is not already present.
During the same project, it was decided that the current analogue cameras should be upgraded to IP in order to improve image quality. We installed 16 x 2-megapixel IP cameras in total.
We configured the system to send an alert to the remote monitoring station outside of usual working hours. We also established a new public address audio system to allow the monitoring station to audio challenge people.
The current analogue intercom system was replaced with a new 2N platform that is future-proofed, scalable, and versatile.
Clarion's 2N IP Intercom system transmits clear HD video and audio from each call station position to a modern Android handset. Before pushing a virtual button, the user may visually and audibly identify the caller on the android LCD display.
The above modifications and additions to the existing and proposed new systems provided the client with a flexible, user-friendly, and manageable method of remote video monitoring throughout the building with minimal false alarms. If one of the zones is activated, the remote monitoring station can issue an audio challenge and notify the police or a keyholder to attend to the intruder.

Clarion Security Systems is dedicated to ensuring clients have their security system needs fully met, and are compliant at all times. We offer a full design, installation, service, and remote monitoring of advanced electronic security solutions, including; intruder alarms, access control systems, intercoms and commercial CCTV.
Clarion Security Systems is an NSI Gold Installer as well as holding the coveted ISO 27001 accreditation. To schedule a FREE site survey, please contact us at 08442 084422 or email us today to discuss your needs.
Because we take our customers' privacy and security seriously, we do not post actual project images*