Commercial CCTV Installation Oldham
Business CCTV In Oldham Since 1996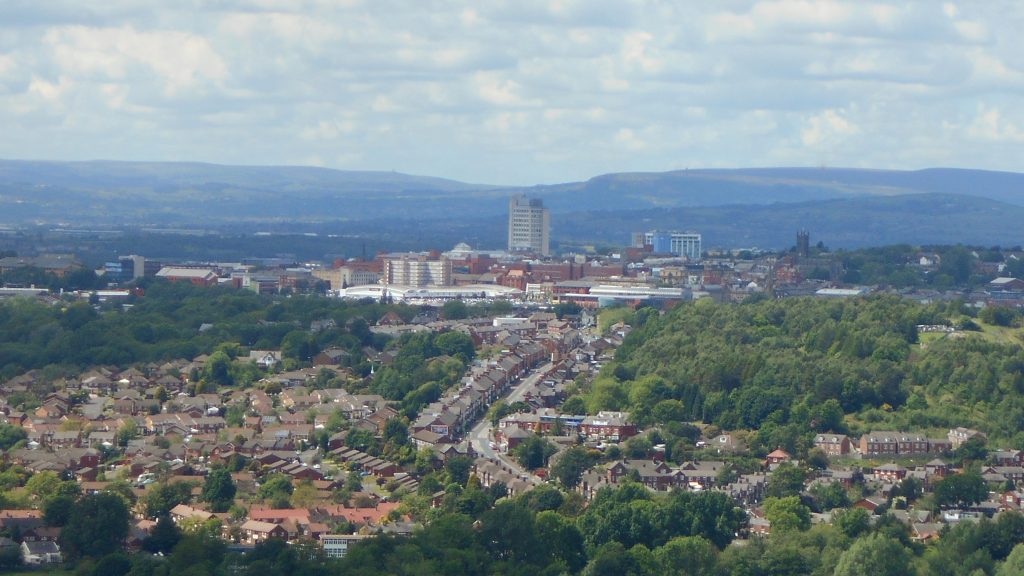 We provide knowledgeable and reliable Oldham CCTV installations, customer support and advice for any of our customers. We are one of the top CCTV installers in Oldham and the surrounding area, and every single member of our team is dedicated to protecting your business.
We can tailor our service to suit your needs exactly, and we'll work closely with you to ensure your CCTV system requirements are met. If you're looking for a CCTV company in Oldham, you're in the right place.
Flexible finance options
We understand that financial security is just as important as the systems that protect your premises.
That's why we offer a range of financial payment options on your security equipment, helping to protect your cash flow as well as your site.
We work in a wide range of public service, commercial and industrial sectors, a small list is below:
School CCTV Installation Oldham
College CCTV Installation Oldham
Retail CCTV Installation Oldham
Hospital CCTV Installation Oldham
Warehouse CCTV Installation Oldham
Factory CCTV Installation Oldham
Business CCTV Installation Oldham
Office CCTV Installation Oldham
Gym CCTV Installation Oldham
Restaurant CCTV Installation Oldham
Vacant Building CCTV Installation Oldham
Nursery CCTV Installation Oldham
Care Home CCTV Installation Oldham
Commercial CCTV Oldham
Oldham's economy depends heavily on the manufacturing industry, especially textiles and mechanical engineering. Since the mid-20th century deindustrialisation of Oldham, these have now been replaced by home shopping, publishing, healthcare and food processing sectors. Factory employment remains a significant employer in Oldham.
Oldham's town centre has been extensively redeveloped over the last 20 years and its two shopping centres, Town Square and the Spindles, now provide the largest covered retail areas in Great Manchester.
With Clarion, we offer bespoke CCTV installations to help keep your business safe and secure. Our work is second to none, and we've worked in and around Oldham for many years, our knowledge and expertise of the area going straight into our work. We can work with any business, school, or industrial client. Whether you're looking for a CCTV system for a large office or a small industrial unit, we can help!
Types Of CCTV Cameras We Use
The installation of CCTV in your Oldham premises is one of the most powerful ways to protect your business and your employees. Our HD CCTV systems aren't complicated, meaning you'll feel comfortable using them—although we will continue to offer our support throughout your time with us. Because we use HD systems, you will be provided with crystal-clear images of your site. These CCTV systems will send the recordings directly to a secure database, meaning you can monitor and review specific times and places, at your leisure. We use a wide range of CCTV cameras based on your premises' individual needs and requirements. Below you will find a list of the CCTV cameras we offer:
Dome cameras – ideal for both indoor and outdoor use and allow wide angles to be monitored via a 360-degree rotation of the camera.
Bullet cameras – ideal for outdoor use as they are designed to withstand dirt, water and extreme fluctuations in temperature. They have a very unique look and act as a great visual deterrent against potential criminality.
PTZ camera – gives you more control of what is monitored and recorded. With the tap of a button, they can tilt up and down, sideways and zoom in and out providing a 360-degree field of vision.
Day/night cameras – designed to work effectively in both low-light and light environments, regardless of lighting conditions, without the assistance of infrared illuminators.
Infrared cameras – used within night vision CCTV cameras to enable the recording of images and video in absolute darkness. 
Network / IP Cameras – All modern CCTV systems use IP because of the superior image quality, larger field of view and many more benefits to traditional analogue CCTV.
Multi-sensor cameras – provide up to 360° of coverage, very much like a fisheye CCTV camera, as well as 360° coverage they can also provide panoramic viewing, but use multiple image sensors to do so.
Fisheye cameras – They have an ultra-wide-angle lens and are capable of dynamic viewing angles, including 180° and 360° panoramic views.
Benefits Of Installing CCTV
Helps to create a safer environment for employees, visitors, premises and property
Acts as a stern deterrent to would-be criminals
Greatly improves building control and management processes
Can assist with emergency and accident management
Can be integrated with new or existing building systems and processes
Why Clarion?
Clarion is accredited by the National Security Inspectorate (NSI), which means we meet the highest standards recognised in the industry. We are also a Contractor Plus-approved company, demonstrating our commitment to health and safety for both our employees and our clients. 
We're also passionate about making our service as green as possible, which is why we're committed to reducing our carbon footprint – without compromising on our fantastic service. And we've been around since 1996 – with over 25 years of experience, everyone on our team knows what they're doing, and they're all incredibly passionate about security.
How we've helped other businesses with Oldham CCTV Systems
Recently in Oldham, we installed a bespoke CCTV system into a large industrial warehouse for a client who required a CCTV system to deter criminality after a recent break-in on a neighbouring unit.
To discuss your CCTV Oldham project, please use the contact forms on this page and one of our friendly team will get back to you within 24 hours (usually sooner).
Locations we work in:
We have worked in Scotland, London and across the UK. To discuss your CCTV project, please use the contact forms on this page and one of our friendly team will get back to you within 24 hours (usually sooner).