Commercial Speed Gates
Protect your employees, visitors, premises, and property with a Clarion-installed commercial speed gate system.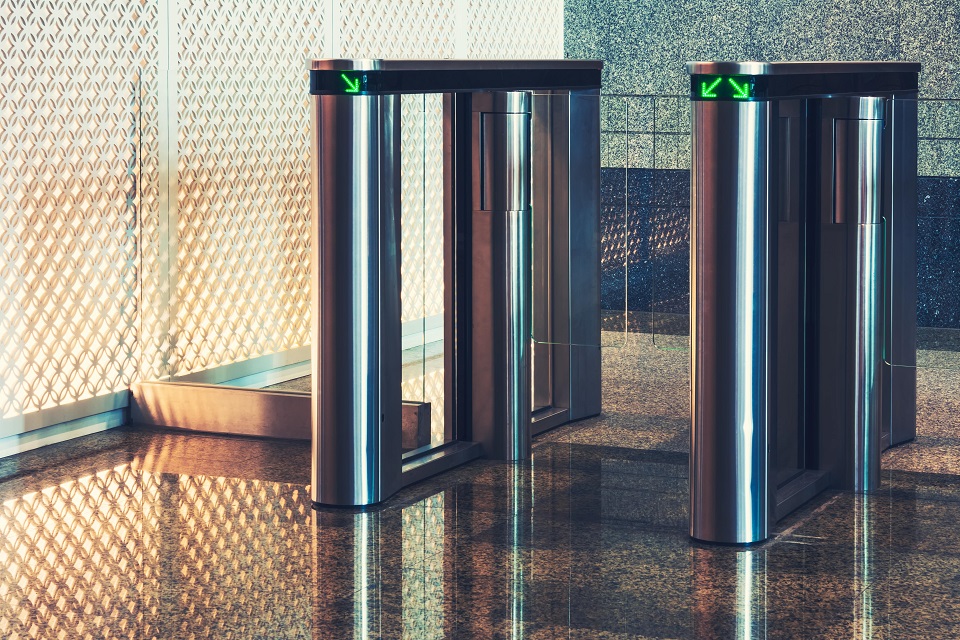 We are able to supply and install speed gates to suit your specific requirements. Our security speed gates allow the access of authorised people into secure areas of your premises by using a fob, key card, or biometric entry, whilst creating a strong visual deterrent against intrusion and further helping with your overall building security.
Why choose Speed Gates?
Caters for a range of access
Safe and transparent tempered glass
Allows fast-flowing traffic
Designed to suit even the most contemporary interior
Can be powder coated in a range of RAL colours
Stainless steel available for hygienic environments
The ability to control the flow of pedestrians is a key requirement in areas where access needs to be limited, whether that's in a school, office or warehouse. For these types of instances, security speed gates are an ideal solution.
Speed gates reduce costs as you no longer need someone manually verifying personnel prior to entering, as well as adding time to what should be a quick process. Neither of these is cost-effective and human error can occur resulting in unauthorised personnel gaining access to secure areas.
If you operate a facility that requires 24-hour access then manually verifying access becomes even more unmanageable.
Speed Gates allows you to automate access to areas that capture an audit trail whilst reducing costs.
Key Benefits of Speed Gates
Serves as a visual barrier
Assists security guards with managing the flow of people
Provides an audio alert when tailgating occurs
Provides control over the number and direction of people passing through
Works with access control and visitor management to keep an audit trail of who is where in your building
Uses anti-passback to prevent cardholders from passing cards back to another person to gain entry
A fantastic aesthetic which improves the look of your entrance
Get In Touch
To discuss your commercial speed gate project, please use the contact forms on this page and one of our friendly team will get back to you within 24 hours (usually sooner).
Call our team on 08442 084422 8:30 a.m. to 5:30 p.m Monday to Friday to discuss your needs.
Speed Gates – An Ideal Solution
No matter what type of building you operate, from a School to a commercial building, you have a responsibility to protect the property and people and assets within.
Speed Gates are therefore an extremely important aspect of any building development, and a robust speed gate solution can be an added step to protecting property and occupants.
When it comes to choosing an entrance control system the appropriate system depends on the entry points you are looking to secure and the type of traffic that you are looking to manage.
Before specifying Speed Gates there are a number of factors to take into consideration:
Do Your Speed Gates Prevent Tailgating?
Tailgating is when someone gains entry to a building or restricted area without using a valid security token such as an ID badge or fob. It is essential that your speed gates have anti-tailgating software built in to prevent this from occurring.
Nearly all modern-day speed gate solutions work by only allowing authorised personnel to enter one at a time. If another person tries to creep through at the same time, sensors will detect this and alert your staff.
It is vital that tailgating detection is both reliable and accurate, and does not produce false alarms so that it provides your staff with a reliable solution. When specifying speed gates we have access to the whole market and currently install speed gates that incorporate up to 40 pairs of infrared sensors and provide accurate detection of tailgating.
When this occurs the glass wings will close quickly, an alarm will signal and are prevented from opening again until a valid security token is presented.
Can The Speed Gates Integrate With Other Systems?
Our Speed Gates are able to be fully integrated with a range of devices, can include lift call, and ticket readers and can be integrated into current building systems if required. We are able to integrate your chosen access control system into the speed gates to ensure you gain a full audit trail of personnel.
How Many Speed Gates Do I Need?
The British Security Industry Association (BSIA) provides a useful formula when working out how many speed gates you require. It is based upon 15% of the building population entering/exiting the building in a five-minute period.
Total Installation Capacity (per Minute) = (Building Population x 15%) / 5
So if you have 200 people entering/exiting the building in a five-minute period, and you are looking to specify a speed gate with a throughput of 80 people per minute, the number of speed gates recommended would be 5 lanes (200 people / 80 ppm = 5 lanes).
Although a useful formula, we would recommend that you first consult a security speed gates installation company, as there are many other factors to consider.
Can I Order A Bespoke Speed Gate Design?
Ensuring that your Speed Gates blend into your overall aesthetic and brand is something we take great care in ensuring. We are able to personalise your speed gates based on your chosen RAL colour to match your company branding.
As well as this are able to offer a range of materials, and can also integrate your logo into the glass wings of the gates. We can also incorporate LED lights so the colour of the sped gate glass wings matches your corporate colours.
Whatever speed gate solution you require, please feel free to just ask, and we will look to provide a solution based on your individual needs.
Partners
The Sectors We Work In